1 5-star campsite
5-star campsite in Provence-Alpe-Côte-d'Azur: enjoy an exceptional holiday in the Var
Are you dreaming of a relaxing night's sleep on your next holiday at one of France's most beautiful campsites? Choose a 5-star campsite from Campasun! The Mas de Pierredon campsite opens its doors to you, with its choice of accommodation, its impressive water park and its many star services (restaurant, entertainment…);
Enjoy a special holiday with your children or just the two of you at our seaside campsite; Introducing the estate!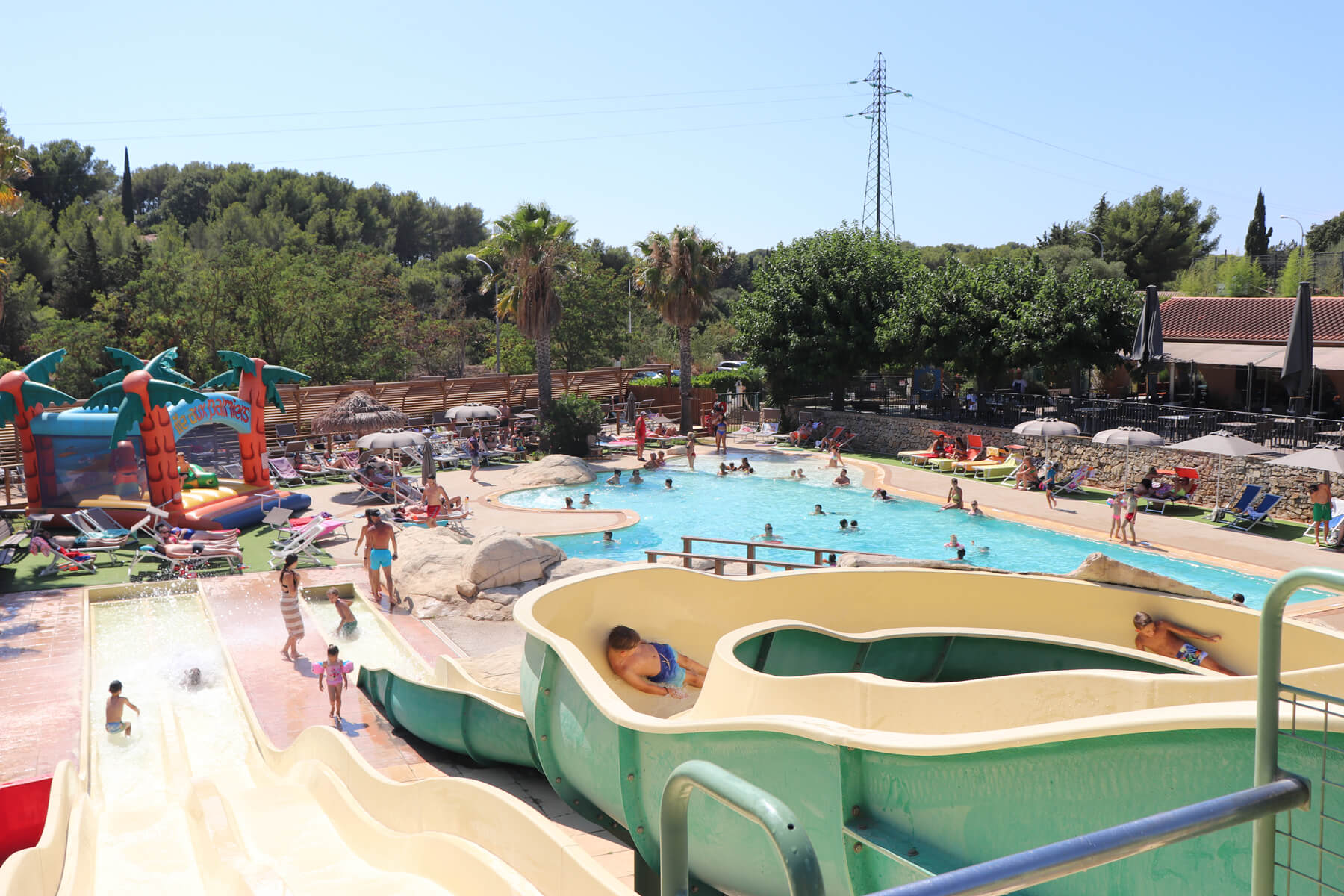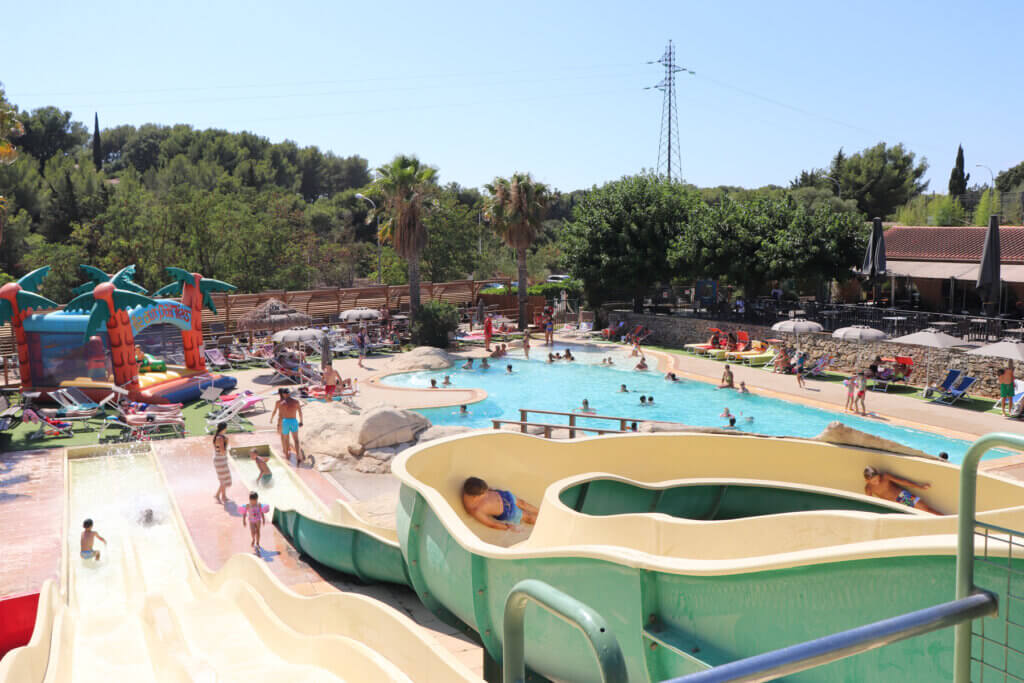 Mas de Pierredon Campasun
Sanary-sur-Mer (83)
Discover this campsite

Camping Mas de Pierredon: a 5-star campsite with cosy accommodation for a relaxing holiday in the south of France

Looking for an unforgettable camping experience without sacrificing the comfort of a cosy bed? Camping Mas de Pierredon, one of the friendliest campsites in the Var, welcomes you to its star-rated grounds for comfortable accommodation; On the programme: the choice between renting a mobile home or a chalet; Each rental has between 2 and 3 bedrooms to accommodate the whole family during a stay in Provence-Alpes-Côte-d'Azur (1 to 6 people); What's more, all our accommodation has a terrace with garden furniture, so you can enjoy a special dinner outside on a balmy summer's evening; Idyllic!

Pitches to rent for tents, motorhomes or caravans in the Var: live as close to nature as possible

Our 5-star campsite offers you the chance to rent a traditional or unusual mobile home; And if you prefer to spend your nights under the stars…; Find out more about our tent, caravan and motorhome pitches; Delimited by hedges, these pitches are spacious and connected to electricity; Our estate also provides public sanitary facilities to ensure your comfort during your holidays in Provence-Alpes-Côte-d'Azur; Pitches with individual sanitary facilities are also available;
A star-rated campsite in the Var with a water park: holidays for adults and children
Taking the whole family on holiday means finding the perfect place for everyone to enjoy themselves – adults and children alike; The Mas de Pierredon campsite has the whole family in mind! Our 5-star campsite offers holidaymakers a water park with an impressive 250 m² swimming pool; Located at the foot of the bar terrace, this pool also boasts a whirlpool bath and multi-track slide; You can count on our lifeguard to keep an eye on the children; After a fun-filled afternoon in our water park, enjoy a special night's sleep in the bedrooms of your mobile home or in your tent, camper van or caravan;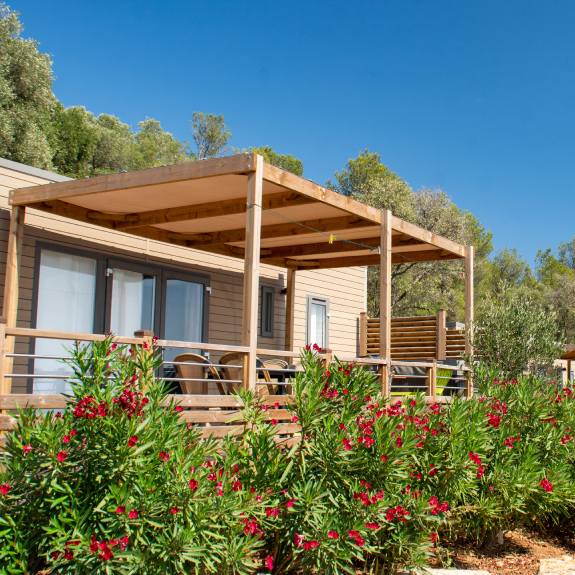 Entertainment and services at a 5-star campsite in the Var
Serviced accommodation (mobile homes or chalets), spacious pitches and a water park with swimming pool await you for your holidays in the south of France! But the 5-star Mas de Pierredon campsite doesn't stop there! Our Michelin-starred establishment guarantees your comfort and enjoyment with Michelin-starred services:
Restaurant: because renting a week's holiday means taking it easy from start to finish, our restaurant will prepare delicious meals for you!
Entertainment: at our 5-star campsite, there's no time to get bored between the activities and entertainment on offer for adults and children alike! There's also a children's club for the little ones on weekday mornings!
Everyday facilities: no need to take your house with you on holiday, a variety of facilities are available on site at the campsite (baby kit hire, etc.);
Stay at one of the best campsites by the sea
Our 5-star camping reveals some great promises for your next holiday in the south of France. Comfortable mobile homes, spacious pitches, water park with swimming pool, activities, entertainment and kids' club; There's plenty to keep you busy and relaxed! But in addition to all these advantages, our campsite offers you its ideal location, close to the beach! If you don't fancy taking the plunge in the pool, you can do so in the heart of nature, just a few minutes from the estate! Ideal for an unforgettable stay to enjoy the wonders of Provence-Alpes-Côte-d'Azur;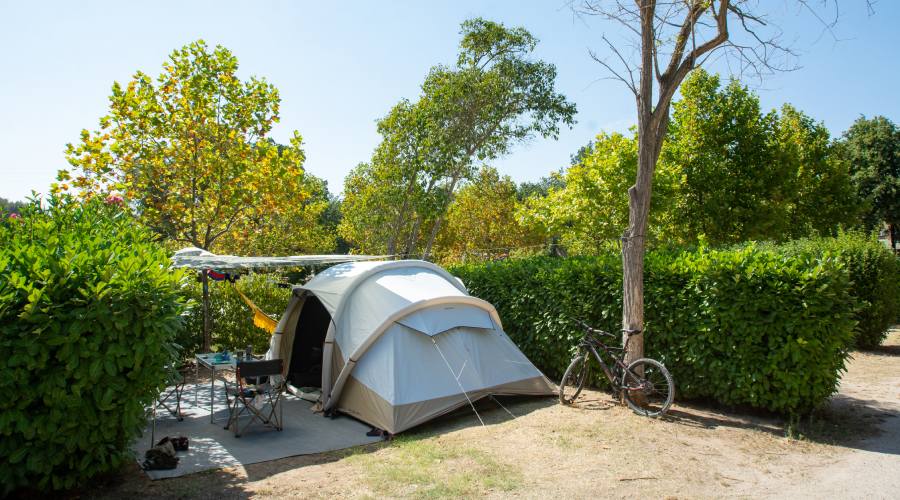 Enjoy a holiday with your pets at a 5-star campsite in the Var;
Would you like to book a stay at our 5-star campsite in the Var? But here's the problem: you don't want to leave your furry best friend at home; It's no longer a problem!
The Mas de Pierredon campsite welcomes pets to its grounds; So you can enjoy the cosy accommodation, water park and activities, all with peace of mind! Your pet can enjoy your week's holiday with you!
How do you choose a 5-star campsite?
Would you like to change your destination and find a 5-star campsite elsewhere in France? Camping Mas de Pierredon tells you what criteria you should use to find the best campsite among all those on the market:
Accommodation options: make sure you're comfortable enough to spend a refreshing night! Spacious mobile home ? With terrace ? Well appointed? Possibility of renting a pitch; With electricity and sanitary ?
Campsite facilities: water park with swimming pool, sports ground, children's play area, make sure the campsite offers a full range of activities to suit all the family's tastes.
Campsite location: choose a campsite located in an unspoilt natural setting, close to tourist attractions or magnificent beaches;
Services and facilities: a Wi-Fi connection, restaurant and entertainment team are just some of the extra features to consider when choosing a campsite;
When you choose a 5-star campsite for a weekend or a week, you're guaranteed exceptional benefits; Modern facilities (mobile homes, chalets, pool area with waterslide and jacuzzi), friendly staff and top-quality services; At the Mas de Pierredon campsite, in the Var in Provence-Alpes-Côte-d'Azur, enjoy top-of-the-range facilities and the highest level of comfort for a successful holiday by the beach; Ready to spend your holidays at one of the best campsites in the region? Discover our mobile home rental for a relaxing night's sleep before exploring the area and the activities on offer – from the beach to sightseeing;