7 campsites in the PACA region
Discover our campsites in the PACA region
Dreaming of a holiday in Provence-Alpes-Côte-d'Azur? So you're looking for the best campsites in the South of France to find an exceptional location? Discover our Campasun campsites! Each campsite in the PACA region offers you a dream destination, pleasant accommodation and top-class services (water park, entertainment, activities, etc.);
Ready to explore the South of France?
Departments and towns of our campsites in the PACA region
Comfortable campsites offering star-rated accommodation and services;
Welcome to the site of your next family holiday with your children or friends; The sun-drenched region of Provence-Alpes-Côte-d'Azur is bursting with gems that invite you to get away from it all; CAMPASUN, our chain of campsites, offers you the opportunity to discover this beautiful region of southern France in one of our comfortable campsites in the PACA region!
Imagine yourself on a well-deserved holiday, comfortably installed in your deckchair, enjoying the golden rays of the Mediterranean sun; The leaves of the olive trees gently rustle under the caress of the Mistral, painting a perfect picture of Provence; CAMPASUN offers you this unique atmosphere in the Provence-Alpes-Côte-d'Azur region;
Each PACA campsite in our chain is characterised by its own unique identity, while maintaining the same high quality of accommodation (mobile homes, unusual accommodation or pitches) and star-rated services (swimming pool, restaurant, activities, entertainment, kids' club, etc.); Wondering why you should choose a CAMPASUN campsite in the PACA region? The answer is simple; Between the beauty of the region, the comfort of our facilities and the diversity of activities, your stay in Provence-Alpes-Côte-d'Azur is sure to be an unforgettable experience;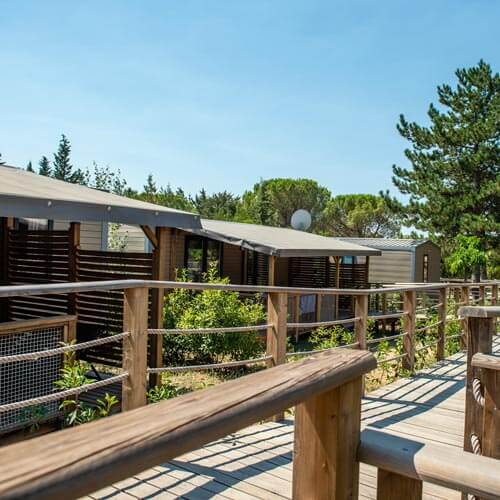 Activities and entertainment at our campsites in Provence Alpes Côtes d'Azur
Activities in the campsite
Spaces and games for children
There are plenty of activities available for you! As well as the water activities mentioned above, you can enjoy our facilities with family and friends, including the bowling green, multi-sports pitch, table tennis, children's play areas and much more; To protect our planet, we offer bike hire with your accommodation, allowing you to arrive and leave your car behind for the rest of your stay;
What to see and do around our campsites in the PACA region ?
The Provence Alpes Côte d'Azur (PACA) region is one of exceptional beauty, with its rolling hills, vineyards and snow-capped peaks; There's so much to see and do around our campsites in the region that there's never a dull moment;
From discovering historic villages and monuments to lounging on superb beaches and exploring mountain trails, here are a few activities and visits to do near our campsites in Provence Alpes Côte d'Azur :
Visit the Basilica of Notre Dame de la Garde in Marseille
Explore the cobbled streets of Aix-en-Provence, where you'll find elegant town houses, picturesque cafés and colourful markets;
Stroll along the coast of Sanary sur mer and Toulon on one of its many popular beaches
Visit Grasse, known as the "perfume capital", to discover its perfumed history and admire the breathtaking scenery of this Provence Alpes Côte d'Azur region;