4 campsites with swimming pools
Campsite with heated pool: enjoy an unforgettable aquatic experience with Campasun
Starred Campasun campsites with heated swimming pool
At Campasun, we have 4 star-rated campsites with heated and/or indoor swimming pools; Those without a swimming pool are located close to a lake or pond;


Camping International
Aups (83)
Discover this campsite

Camping international d'Aups

Located in the village of Aups in the Var (north of Saint-Tropez), Camping international d'Aups has a heated swimming pool, waterslides and even a communal jacuzzi!

Children love our multi-lane waterslide and our inflatable game, which can be heard laughing all day long; After a whole day of playing, they'll have a good night's sleep! For parents, there's a heated swimming pool for long dips and a communal jacuzzi for gentle relaxation; For the more active, our coach offers fitness and aquagym classes, and even organises buoyancy races and water polo!

Finally, because holidays are all about relaxation, our campsite also has a terrace with deckchairs for sunbathing by the pool;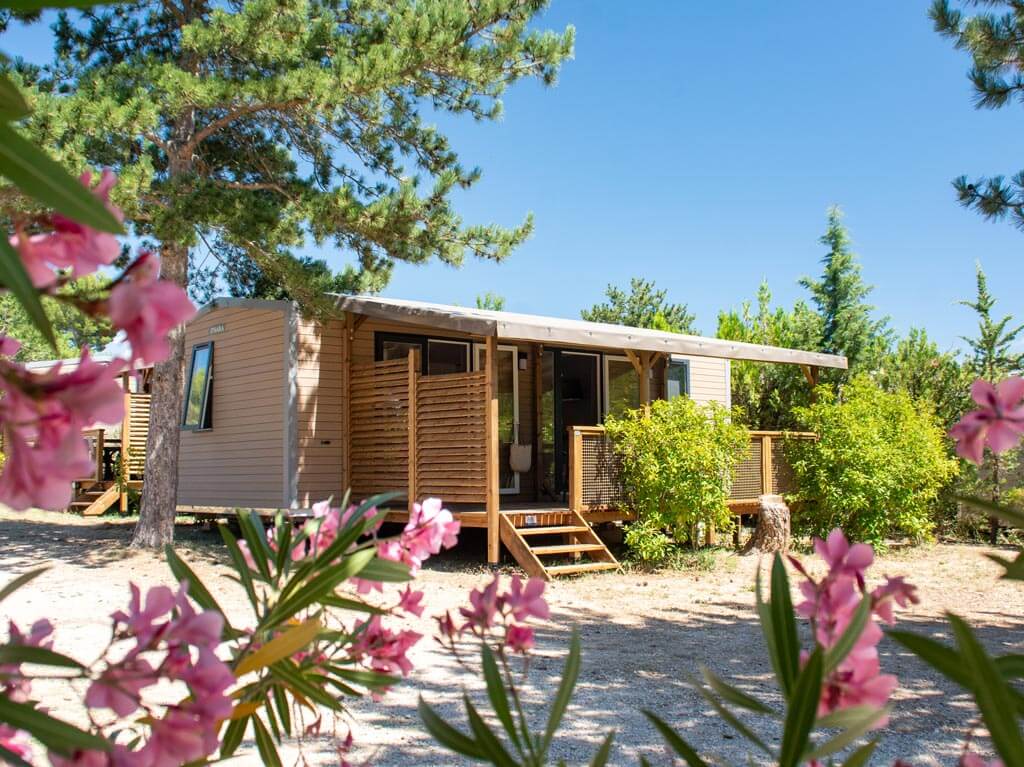 Camping les Hautes Prairies
Lourmarin (84)
Discover this campsite

Le Camping Les Hautes Prairies

Les Hautes Prairies campsite has a water park with slides and jacuzzi; This estate is located in the beautiful Vaucluse region, in the village of Lourmarin, one of the most beautiful in France; Its pool area offers breathtaking views of the Lubéron mountains;

The estate's 300 m² heated swimming pool is one of the largest in the region. While your little ones are having fun on the multi-lane slide, you can sip a cocktail on the restaurant terrace, where you can keep an eye on your children;

And here too, enjoy a sporting holiday with aquagym or water polo!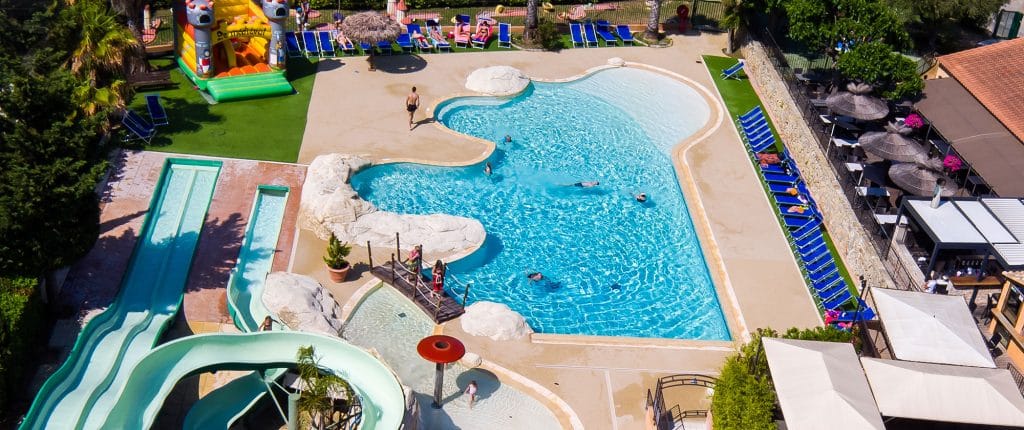 Parc Mogador Campsite
Sanary-sur-Mer (83)
Discover this campsite

Le Camping Parc Mogador

Not far from Toulon, in the south of the Provence-Alpes-Côte d'Azur region, our Parc Mogador campsite welcomes you with its water park; With a heated swimming pool and a covered jacuzzi area, it's sure to delight children and parents alike! Not forgetting the little ones, who can spend active afternoons in the heated paddling pool; With a small slide and water games, your children will never be bored!

For parents who enjoy water activities, we strongly recommend an aquagym session in the estate swimming pool!

You can also relax by the swimming pool at Camping Parc Mogador; Deckchairs are at your disposal, and only the sound of the water and the laughter of the children will rouse you from your siesta!


Mas de Pierredon Campasun
Sanary-sur-Mer (83)
Discover this campsite

Le Camping Mas de Pierredon

In Sanary-sur-Mer, Camping Mas de Pierredon stands out from the crowd with its large 250 m² heated swimming pool; Jacuzzi, whirlpool bath, multi-lane slide and bouncy castle await children and parents alike! And after a good workout, you can enjoy a bite to eat on the terrace of the panoramic bar-restaurant or by the water;

You're bound to find the campsite with heated pool of your choice with Campasun in Provence-Alpes-Côte d'Azur!
Choose the ideal campsite with a heated indoor swimming pool
Do you dream of spending the perfect summer holiday at a campsite in France? Many of Campasun's star-rated campsites have a swimming pool;
When you're looking for the ideal campsite with a swimming pool, you need to ask yourself a few questions; First of all, determine your needs and preferences; Do you want a heated pool to enjoy whatever the weather? Or would you prefer an infinity pool with a lovely view? Would you like a small slide so that your children can spend long days having fun? Or do you want a thrill slide to give you a good time? Finally, ask whether the campsite has a relaxation area with jacuzzis or solariums, for the ultimate in relaxation;
Don't forget to take into account the location of the campsite; If you love the sea, choose a campsite with a swimming pool close to magnificent beaches; So you can alternate between swimming in the pool and sunbathing on the warm sand; On the other hand, if you prefer nature and lush landscapes, choose a campsite with a swimming pool surrounded by an unspoilt nature reserve;
Make sure that the campsite offers the type of swimming pool you are looking for;
Choose a campsite with a swimming pool and enjoy an aquatic experience you won't soon forget! Book your mobile home now!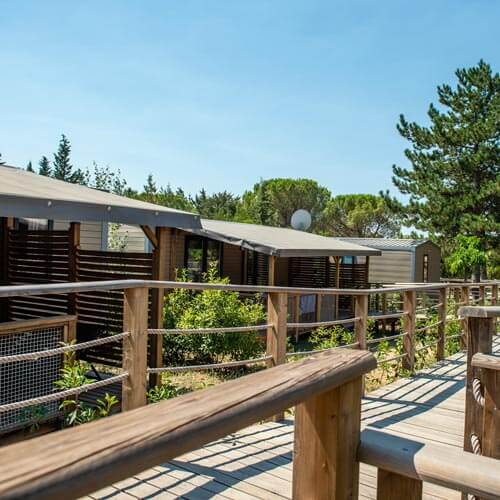 Enjoy a wide range of activities and entertainment during your week on a campsite with a swimming pool
Activities in the campsite
Spaces and games for children
Your stay at a campsite with a swimming pool is not just about swimming and relaxing in the sun; Campasun's star-rated campsites offer a wide range of activities and entertainment to keep the whole family entertained;
During your stay, you'll be able to take part in a wide range of activities to suit young and old alike; Whether you're a fan of outdoor sports, team games or creative pursuits, you'll find something to suit you in the entertainment programmes on offer at the campsite; From sports tournaments and craft workshops to yoga sessions and dance evenings, there's something for everyone;
Children won't be left out in the cold thanks to the kids' club, where they can make new friends and take part in age-appropriate activities; Qualified entertainers will keep them entertained with games, shows and fun activities; Your little holidaymakers will be thrilled to have exciting adventures and develop their creativity;
In the evening, there's plenty of entertainment to keep you entertained; From magic shows to open-air concerts, themed evenings and cinema screenings, the campsite offers a rich and captivating programme; Take advantage of these moments of conviviality to forge links with other holidaymakers and share moments of joy and good humour;
Your stay at a campsite with a swimming pool will be punctuated by a multitude of activities and entertainment that will delight every member of your family; Take part in sports tournaments, try out new activities and be entertained by exciting shows; The possibilities are endless, guaranteeing days full of laughter, discovery and shared pleasure;
Discover the treasures of the region during your stay at a campsite with a swimming pool
When you stay at a campsite with a swimming pool, don't just limit yourself to the pleasures of the water; The region surrounding the campsite is full of treasures to explore and activities to discover; Here are a few suggestions to help you make the most of your stay;
Start by taking part in the water sports activities close to the campsite; Put on your swimming costume and set off to conquer the splendid beaches lining the coastline; Enjoy the sun, the waves and the softness of the sand beneath your feet;
If you're looking for a thrill, don't miss out on the water sports available near your campsite; Try your hand at surfing, windsurfing or paddle boarding; And let the adrenaline rush of gliding across the water take you away!
As well as water-based activities, the region around your campsite is also full of must-see tourist sites; Immerse yourself in history by visiting the monuments, exploring the castles, cathedrals and historical remains that bear witness to the region's rich cultural heritage;
If you're a nature lover, don't miss the unspoilt nature parks close to the campsites, offering an escape right in the heart of enchanting landscapes; Hike along the trails, admire the local flora and fauna and breathe in the pure natural air;
Last but not least, a week's camping means a week's gastronomy! Don't forget the local gastronomy, a must-do during your camping holiday; Sample regional specialities and traditional dishes at local markets and restaurants; You'll discover an array of culinary delights to savour!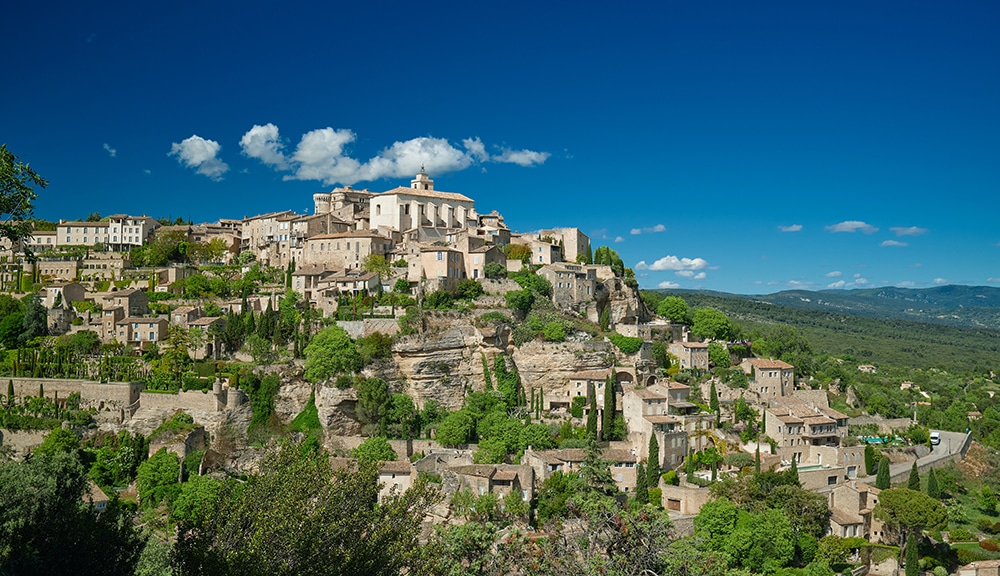 Take advantage of all the facilities and services offered by our campsite with swimming pool
When you book a stay at a campsite with a swimming pool, you get much more than just water facilities;
In addition to the swimming pool, many of our star-rated campsites offer a children's play area with slides and swings, as well as relaxation areas with deckchairs;
Finally, after a whole day splashing around in the pool, parents and children alike will be famished! The perfect time to visit our campsite restaurant and enjoy a menu based on local, seasonal produce;
Book your camping holiday with a covered and heated swimming pool
To choose your campsite with a swimming pool, first select the French department where you want to stay and the water facilities at the various campsites;
If you have spent your previous holidays in Nouvelle-Aquitaine (Landes, Dordogne, Gironde, Charente, Pyrénées-Atlantiques), Pays de la Loire (Vendée, Maine-et-Loire, Loire-Atlantique…), Auvergne-Rhône-Alpes, Normandy or Brittany (Finistère, Côtes-d'Armor…), now discover the Provence-Alpes-Côte d'Azur or Haute-Savoie regions with one of our starred campsites!
You can also read what other holidaymakers have to say about the domain where they spent their week's holiday; Their testimonials can give you a valuable insight into the quality of the facilities and services offered by the campsite;
Finally, our team will be happy to answer any questions you may have (availability of mobile homes, night-time offers from campsites, characteristics of the swimming pool or aquatic area, number of nights possible in the accommodation, bedroom capacity, presence or absence of water slides, weeks available depending on the campsite, etc.); We'll also be happy to share our tips and advice on places not to be missed in Provence-Alpes-Côte d'Azur or Haute-Savoie;
Book your holiday now at one of our campsites and get ready for a family holiday full of fresh air and water fun!