2 lakeside campsites
Lakeside campsite: enjoy a privileged holiday at a campsite ideally located in Provence-Alpes-Côte-d'Azur
Are you looking for a dream holiday destination with your children? And would you also like to rent a property in the heart of nature for some rejuvenating nights? Choose a lakeside campsite. Campasun offers you two campsites in Provence-Alpes-Côte-d'Azur for an unforgettable weekend or week in the south of France. By choosing to rent a mobile home or a pitch in one of these establishments, you will have the privilege of spending a holiday just a stone's throw from a magnificent lake. And after this family trip, give us your opinion on the campsite and its star-rated services!
Find your lakeside haven of peace at one of Campasun's campsites
Looking for an idyllic campsite for your lakeside holiday? Let yourself be seduced by our campsites set in the heart of nature. During your week's holiday, enjoy breathtaking scenery at Camping de l'Aigle or Camping le Soleil. We present each Campasun estate in Provence-Alpes-Côte-d'Azur.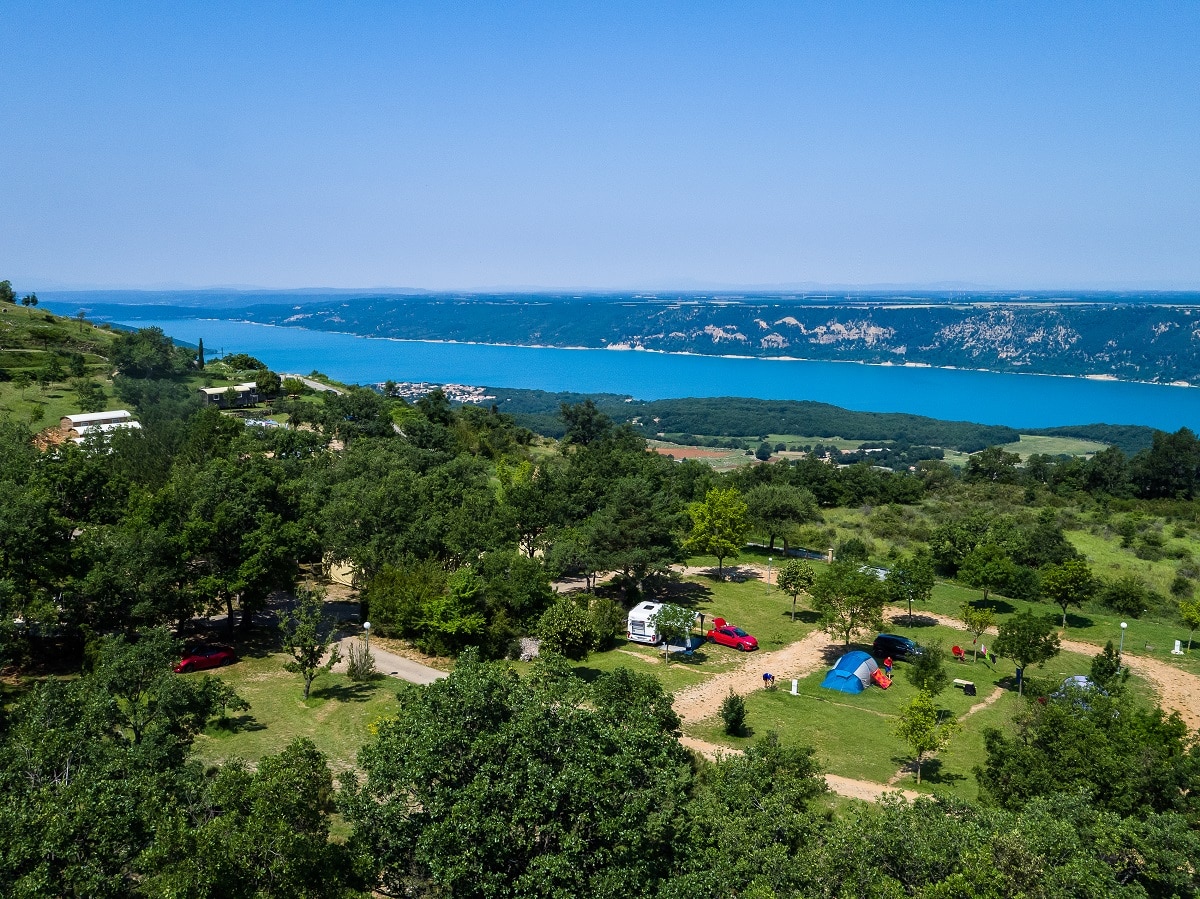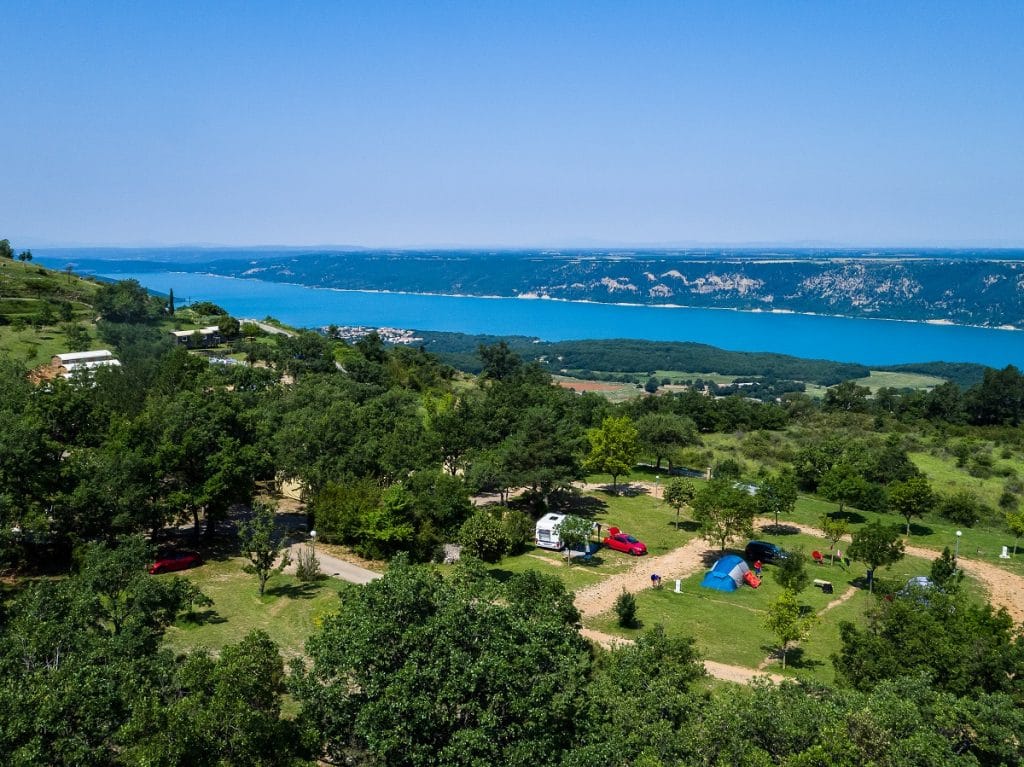 Camping de l'Aigle
Aiguines (83)
Discover this campsite

Camping de l'Aigle – a campsite with a breathtaking view of Lake Sainte-Croix

For your stay in the south of France, rent accommodation at a campsite with Michelin-starred facilities. Camping de l'Aigle opens its doors to you at Aiguines in the Var and offers you the chance to rent a mobile home or pitches for your tent, camper van or caravan. Discover unusual accommodation for a unique holiday or stay as close to nature as possible by opting for a pitch. In all cases, as well as a restful night's sleep, you can take advantage of our services and entertainment. Last but not least, the campsite is ideally located just a stone's throw from the Lac de Sainte-Croix. Not only do you have a breathtaking view of the lake, but you don't even need a swimming pool – you can bathe in an exceptional green setting in Provence-Alpes-Côte-d'Azur. Can't wait to get started? Book your stay at our lakeside campsite now.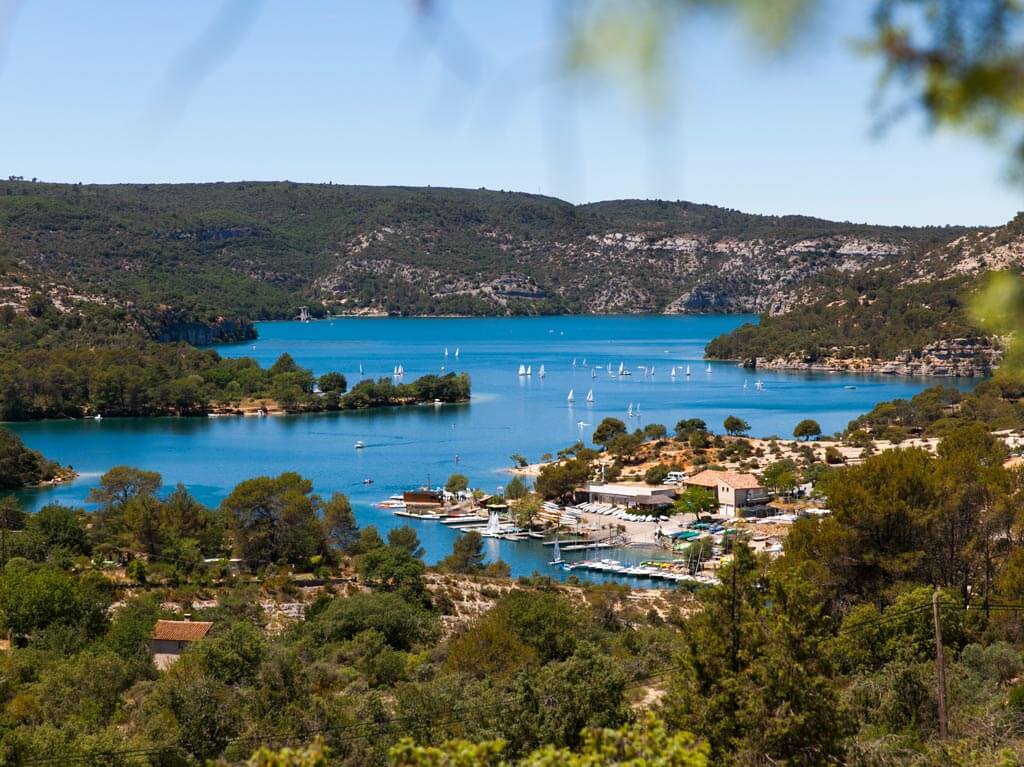 Camping le Soleil
Esparron de Verdon (04)
Discover this campsite

Camping le Soleil – a campsite a stone's throw from the lake at Esparron-de-Verdon

Our lakeside campsites include Camping de l'Aigle and Camping le Soleil. Camping le Soleil is located in Esparron-de-Verdon in the Alpes-de-Haute-Provence. Our 4-star estate offers you a warm welcome in a privileged setting and a range of accommodation for an unforgettable week in Provence-Alpes-Côte-d'Azur, filled with soothing nights: mobile home rental, unusual accommodation rental or camping pitch rental. It's up to you to decide how you want to spend your holiday in the South of France with your children or friends – in the comfort of fully-equipped accommodation or in harmony with nature on a pitch. Finally, this lakeside campsite offers you the luxury of not having to swim in a crowded pool. You can take the plunge into a body of water with sublime reflections: the Lac d'Esparron-de-Verdon.
Why choose one of our lakeside campsites in the Var or
Our lakeside campsites offer a wide choice of options to suit all tastes. Whether you prefer to camp in a tent, stay in a mobile home or enjoy the comfort of an unusual dwelling, you're sure to find accommodation to suit your needs. The spacious, tree-lined pitches give you the chance to recharge your batteries in complete tranquillity during your week's holiday in Provence-Alpes-Côte-d'Azur, surrounded by the natural beauty of the area.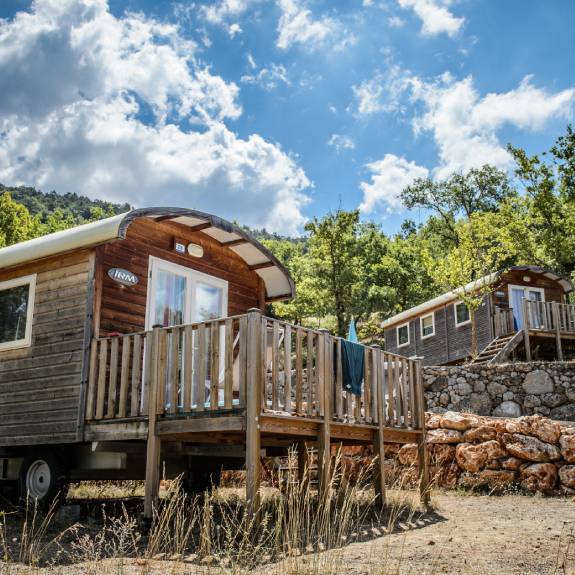 Book a lakeside campsite for a variety of water sports activities
So while our campsites are fully equipped for your utmost comfort in terms of accommodation and star-rated services, they also benefit from a privileged location in the heart of nature, just a stone's throw from a natural stretch of water. When you choose a lakeside campsite, you give yourself privileged access to a host of water-based activities. Spend sunny days swimming, canoeing, paddling or simply relaxing on the beach. Let yourself be charmed by the gentle breeze on the water and the sparkling reflections of the sun dancing on the surface of the lake.
Rent a mobile home near a lake for a family outing
Hiking enthusiasts will be delighted by the picturesque paths winding around the lakes – Lake Sainte-Croix and Lake Esparron-de-Verdon. Discover breathtaking panoramas, refreshing waterfalls and lush forests. Soak up the natural surroundings and observe the local flora and fauna in their natural habitat.
Book your stay at a lakeside campsite now and experience unforgettable moments in the great outdoors with your children or friends. Take advantage of our quality facilities and services, our varied activities for all the family and our comfortable accommodation on idyllic pitches. Plan your getaway in harmony with nature today and let yourself be enchanted by the beauty of the surrounding lakes.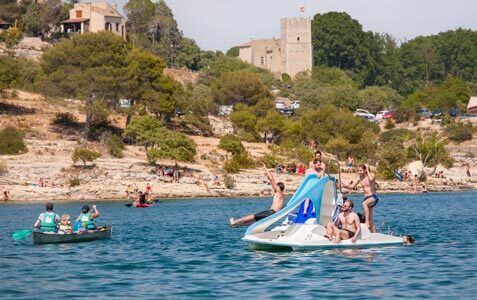 The cultural and tourist treasures of Provence-Alpes-Côte-d'Azur: a wealth to explore on a lakeside camping holiday
Your stay at a Campasun lakeside campsite – whether at Camping de l'Aigle or Camping le Soleil – is not limited to the pleasures of an afternoon swim in the lake. Provence-Alpes-Côte-d'Azur is full of cultural and tourist treasures to discover.
Visit picturesque villages: the region is full of charming little villages. Visit places like Moustiers-Sainte-Marie, listed as one of France's most beautiful villages, Castellane and Valensole.
Hiking: whether in the Parc Naturel Régional du Verdon, the Parc National des Calanques or the Massif de l'Estérel, there are plenty of hiking options to suit all levels. Don't miss the must-see of the Provence-Alpes-Côte-d'Azur region: the Gorges du Verdon.
Wine tasting: the region is famous for its wines, particularly the rosés of Provence. There are many vineyards to visit for a tasting.
Provençal cuisine: discover the local markets and sample the local cuisine, which includes dishes such as bouillabaisse, ratatouille and aïoli.
Historical and cultural heritage: visit historic sites such as the church at Esparron-de-Verdon, the château at Castellane or the Roman ruins at Fréjus. You can also visit museums such as the Musée de la Préhistoire in Quinson.
Lavender: in summer, don't miss the lavender fields, particularly around Valensole. You can visit a lavender distillery to find out more about this emblematic product of the region.
How do you book your lakeside camping holiday? Ease and simplicity for the perfect holiday
Booking your lakeside camping holiday at one of the Campasun establishments couldn't be easier.
Start by visiting our website, where you'll find full details of our lakeside campsites, every mobile home, unusual accommodation or pitch available to rent. Explore the different accommodation options, services and activities on offer. Let the captivating photos give you a taste of the magical atmosphere at our campsites in Provence-Alpes-Côte-d'Azur.
Once you've found the campsite that suits your requirements, select the dates of your stay and the type of accommodation you want. Our online booking system allows you to check availability in real time and choose the option that suits you best.
To make sure your stay is a success, don't hesitate to contact our reception team. Our experts will be delighted to answer all your questions and help you plan your stay down to the last detail. Whether you need recommendations for activities, advice on sightseeing or special requests, we're here to help.
Once you have finalised your booking, you will receive an e-mail confirmation with all the details of your stay in the south of France. So you can get ready in peace and concentrate on planning your lakeside holiday.
Book your stay at camping bord de lac now and get ready for an unforgettable holiday with ease and simplicity. From comfortable overnight stays to the many activities you can enjoy with your children or friends, you won't be bored on this waterfront trip to Provence-Alpes-Côte-d'Azur!
And after your stay in a privileged area close to the region's most beautiful tourist attractions, give us your opinion on your experience at one of our Campasun campsites!