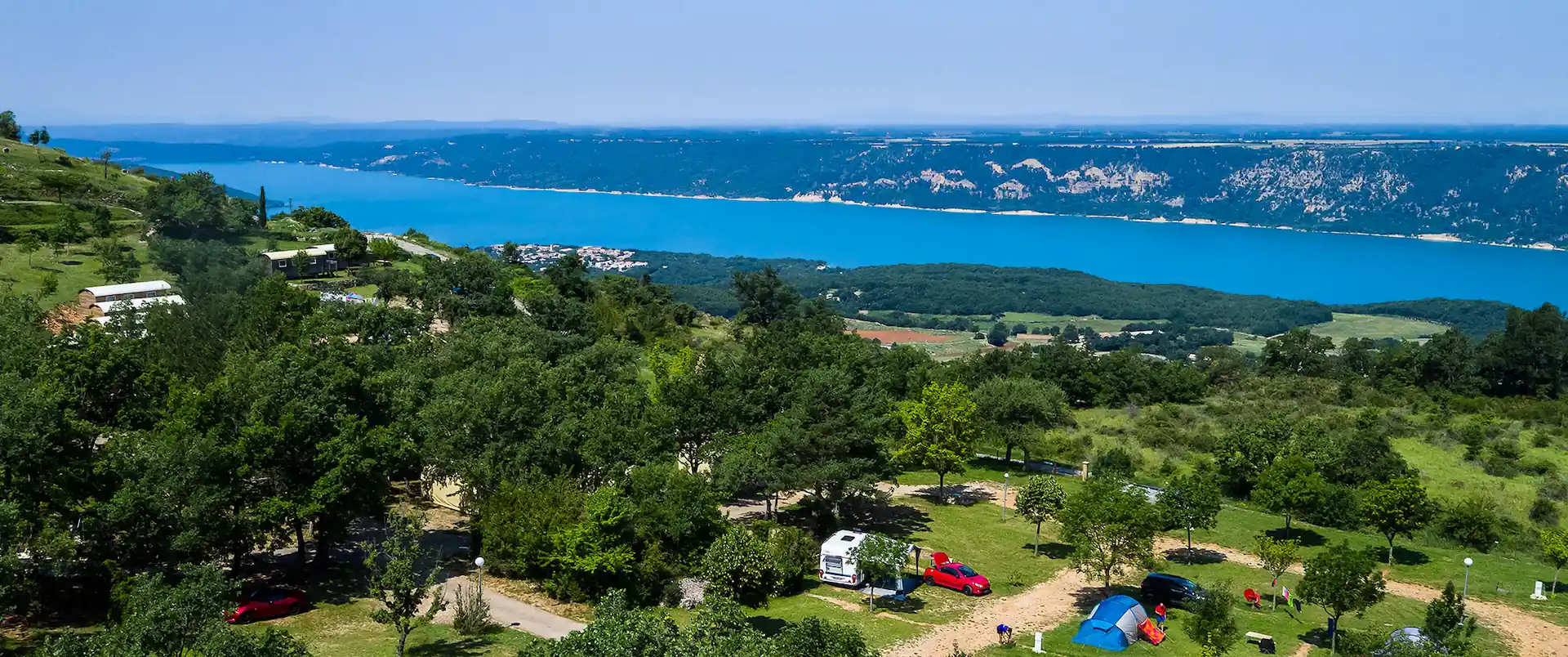 Camping de l'Aigle


Camping de l'Aigle
In Gorges du Verdon
51 Route du Verdon,
83630 Aiguines,
Var – PACA
Open from 12/05 to 10/09/2023
? Reception closes between 12.00 and 14.00.
✔️ What time can you arrive? You can take possession of your pitch from 2:00 pm and of your accommodation from 3:00 pm.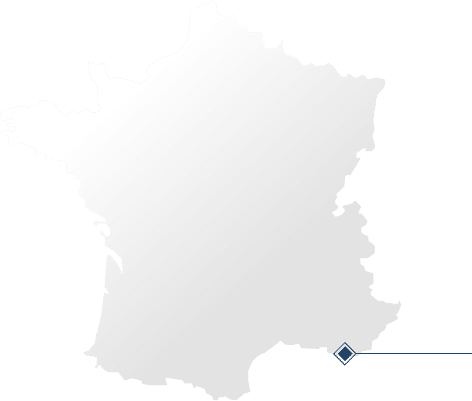 Jacuzzi (available mid-June)
Sports activities in the Verdon
Camping with a view on the Lake of Sainte Croix in Aiguines, in the Verdon
Camping Lac de Sainte Croix 3 stars in Aiguines
At the entrance of the Gorges du Verdon and perched above the Lake of Sainte Croix, the 3-stars campsite Aigle, 2 minutes walk from the village of Aiguines offers you to stay or to eat in a fairytable setting.
From dawn to dusk, you will enjoy a fantastic panorama and an extraordinary view on the lake of Ste Croix, which make this place unforgettable and astonishing.
Facing the Plateau de Valensole and the Vallée de Moustiers, the Lac de Sainte Croix de l'Aigle campsite offers you a stay in the fresh air of the Verdon Regional Nature Park, looking out over superb scenery in a warm, family atmosphere.
Admire this exceptional view from the webcam in the village of Aiguines.
What the Camping de l'Aigle is proposing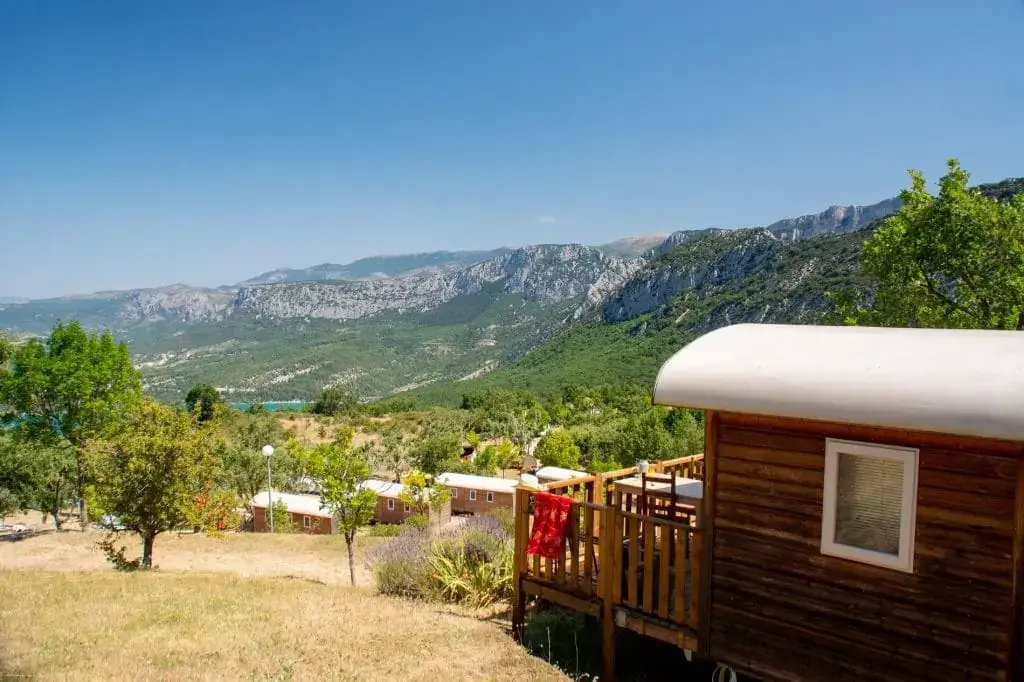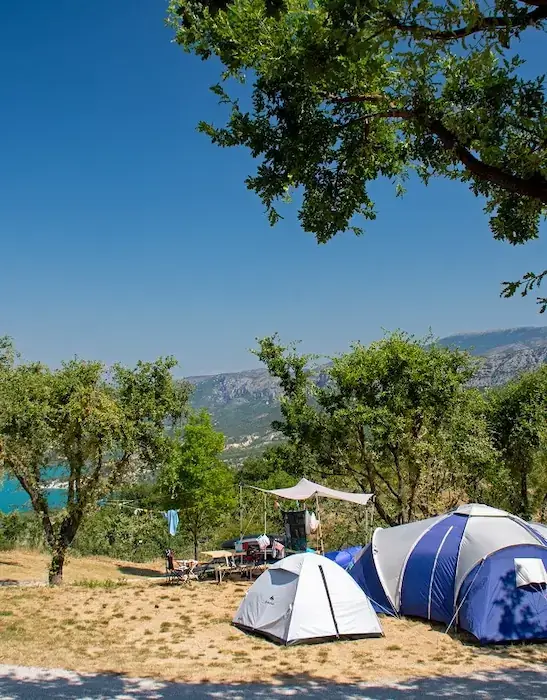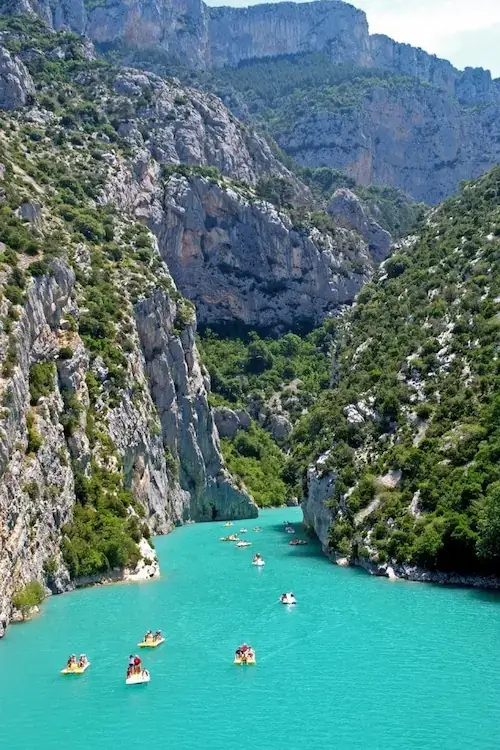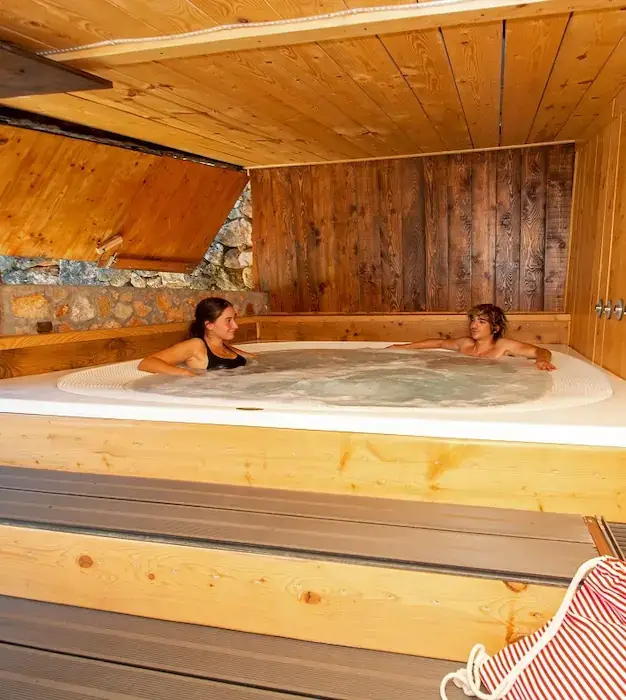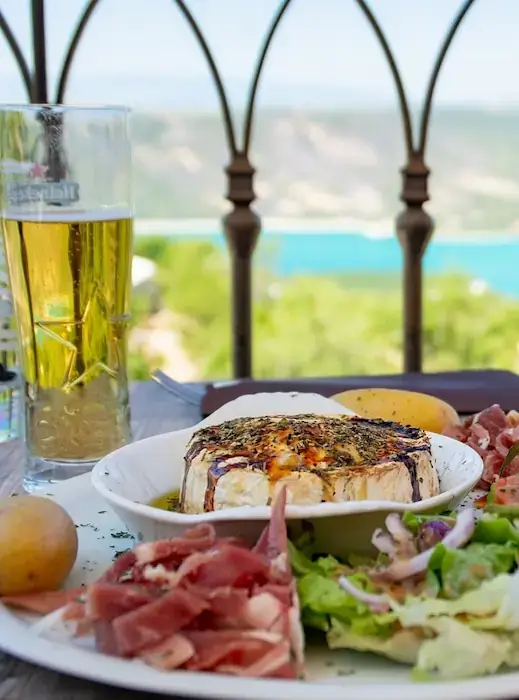 Pitches & Rentals for Unusual Holidays in the Verdon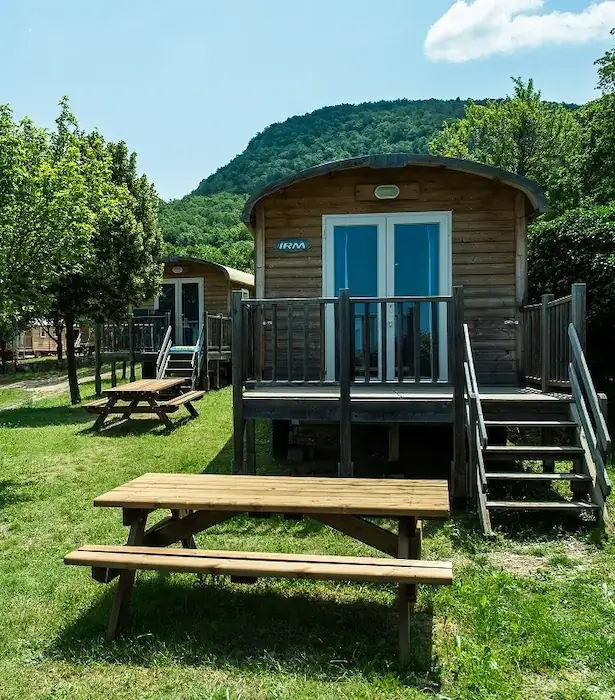 On its land in "restanques", the campsite of Aigle has made its pitches into small bucolic corners. You can pitch your tent there quietly, always with a breathtaking view on the lake of Sainte Croix.
For those who want more comfort during their stay in the Gorges du Verdon, we offer many unusual accommodations: Pod, Roulotte, Tent Eco Lodge and Coco-Sweet for unforgettable vacations in the middle of nature in the Verdon Natural Regional Park.
You can also relax in our jacuzzi area, from June, to enjoy the mild summer weather.
Activities according to your desires…
Whether you are with friends or family, a couple or alone, a sportsman or not, the Verdon Natural Regional Park offers nature lovers various and varied activities.
The Lake of Sainte-Croix and the Gorges du Verdon offers an ideal environment for swimming. At the edge of the lake and in the Gorges of Verdon, you will find many beaches and places to swim. To discover the heart of the Gorges du Verdon with your family or friends, don't hesitate to rent a kayak, a paddle, or an electric boat.
For extreme experiences, opt for white water or bungee jumping, 182 m of adrenaline awaits you! Ideal trails for rafting, canyoning and water trekking are offered.
Read more
For hiking lovers, the departure of the Grand Margès with a part of the GR®99 is located in front of the campsite entrance.
For more authentic experiences, visit the most beautiful villages in France such as Moustiers-Sainte-Marie, Aiguines, Rougon, Sainte-Croix du Verdon, la Palud sur Verdon, Castellane and many others. Many Provençal markets are also proposed.
Finally, for a gentle vacation, the Aigle campsite invites you to relax in the collective Jacuzzi and to sip a cool drink in the restaurant to enjoy a magnificent view of the Lake of Sainte-Croix and of course the sunset!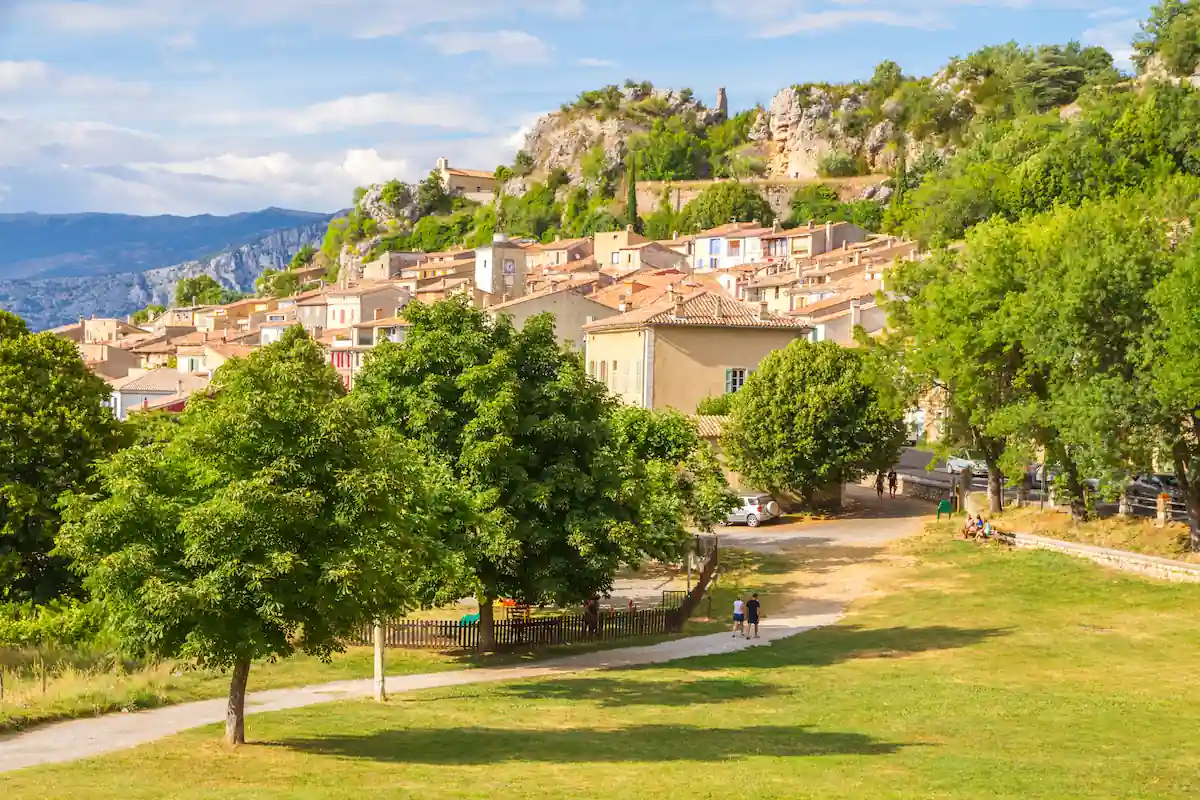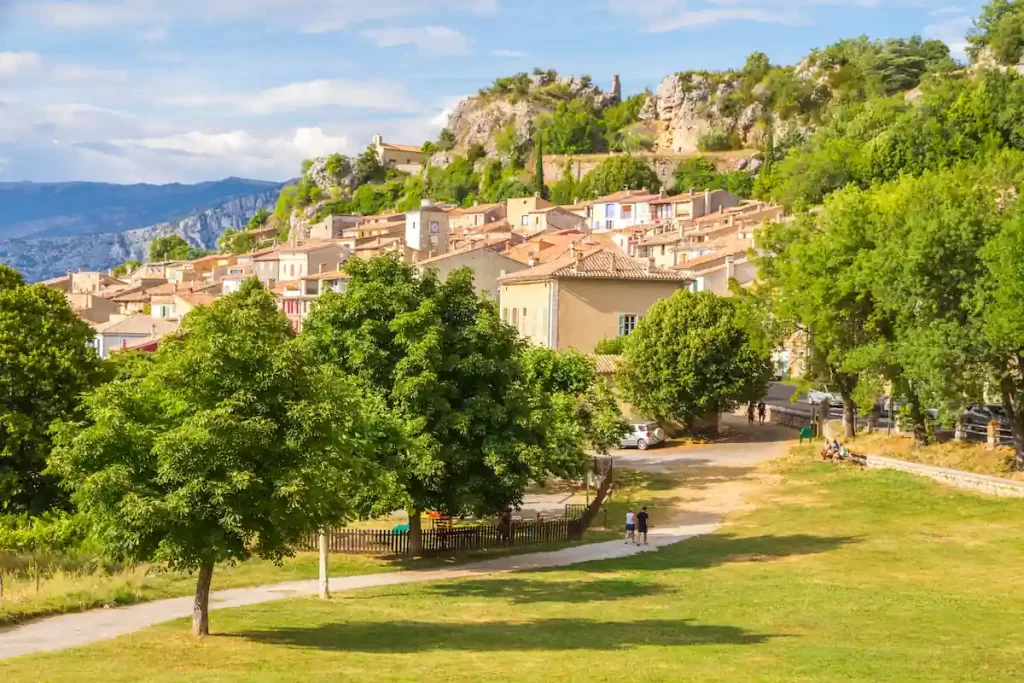 Discover Aiguines on your camping holiday at Lac de Sainte-Croix
Discover Aiguines, a village nestling in the Gorges du Verdon near Lac de Sainte-Croix. It's a must-see destination for lovers of nature, culture and breathtaking scenery. Whether you're a keen hiker, a heritage enthusiast or just looking for some peace and quiet, this charming Provencal village is sure to please.
Overlooking the Lac de Sainte-Croix, the village of Aiguines offers breathtaking views. Stroll through its picturesque streets and discover its stone houses, shady squares and boutiques. The peaceful, authentic atmosphere will transport you to another time.