1 campsite in Aiguines
Aiguines campsite: discover Provence-Alpes-Côte-d'Azur at one of the region's best campsites
Enjoy a privileged holiday in the exceptional region that is Provence-Alpes-Côte-d'Azur. To guarantee a pleasant stay with family or friends, opt for a rental as close to nature as possible in a camping in Aiguines !
Camping de l'Aigle opens the doors to its 3-star campsite with mobile home, unusual accommodation or pitch rental, all located just a few kilometres from the Saint-Croix lakeside. Now you don't need a swimming pool to spend a weekend or a week with your feet in the water!
And after your visit, share your opinion of our campsite in the Var with other holidaymakers!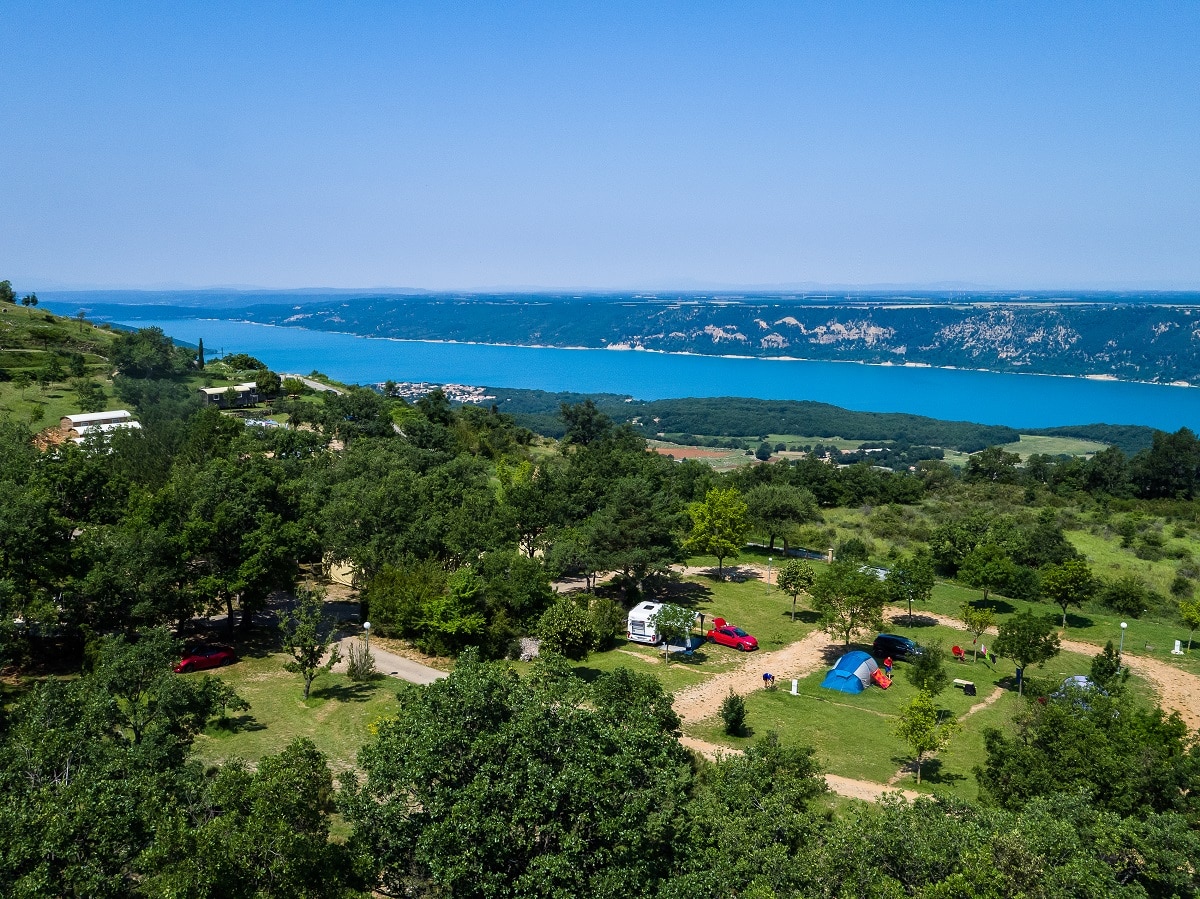 Camping de l'Aigle
Aiguines (83)
Discover this campsite

An exceptional stay at a 3-star campsite in Aiguines: holiday rentals at Camping de l'Aigle

Have you ever spent a holiday in Provence? Imagine the scene – a holiday in a destination offering natural beauty and a pleasant climate; Does this vision appeal to you? It's time to head to Provence-Alpes-Côte-d'Azur! And for restful nights during your stay in the south of France, our campsite in Aiguines, Camping de l'Aigle, welcomes you to its campsite; Find out more about each available location:

Mobile home rental with terrace
Rent an unusual accommodation with terrace
Pitches for hire

Our accommodation and pitches for 2 to 6 people offer you an exceptional holiday; Book now on our website or call us for more information;
Discover other towns around Aiguines
A privileged holiday at a star-rated campsite in Aiguines
The Camping de l'Aigle, campsite in Aiguines offers a choice of comfortable accommodation (mobile homes, unusual accommodation) or pitches, as well as star-rated services.
At our campsite, we're thinking about holidays for all the family! There's a jacuzzi, sports facilities (boules pitch, table tennis, bowling) and games for adults and children (table football, playground, bouncy castle);
Our campsite also offers everything you need for everyday life – from Wi-Fi to laundry facilities; Last but not least, our restaurant will be delighted to introduce you to local specialities;
A lively camping holiday in the town of Aiguines in the heart of the Var
Activities in the campsite
Spaces and games for children
Situated in the Var department of Provence-Alpes-Côte-d'Azur, the charming town of Aiguines is a haven of peace nestling between the mountains and the crystal-clear waters of Lac de Sainte-Croix; Outdoor enthusiasts will be delighted by the many possibilities offered by Lac de Sainte-Croix; Enjoy a refreshing swim, try your hand at water sports such as kayaking or paddle boarding, or go hiking to discover the breathtaking scenery on offer.
Then stroll through the picturesque streets in the old town and discover its stone houses, shady squares and refreshing fountains. To relax after a visit to this pretty town in the south of France, discover our Camping à Aiguines, one of the the region's most beautiful campsites!
From the Gorges du Verdon to the region's iconic towns
The PACA region, short for Provence-Alpes-Côte d'Azur, is an enchanting destination offering an exceptional setting where the splendour of the Mediterranean Sea blends harmoniously with the majesty of the Alps.
Located in south-east France, this region attracts many visitors every year in search of a change of scenery and new discoveries. To make the most of this exceptional beauty, our campsite offers you the chance to rent comfortable accommodation – mobile homes or pitches!
Landscapes not to be missed around Aiguines during your camping holiday in the Var
One of the major attractions of the PACA region lies in its geographical diversity. On one side, you can bask on a sandy beach bathed by the Mediterranean turquoise. On the other, the craggy peaks of the Alps invite you to adventure and contemplation;
Just a few kilometres from Aiguines, don't miss the famous Gorges du Verdon, the jewel in the region's crown. Its impressive limestone cliffs and turquoise waters make it one of France's most emblematic sites; Thrill-seekers can go rock-climbing, canyoning or even bungee-jumping in the Gorges du Verdon;
After your day of sport or discovery, recharge your batteries at our camping in Aiguines.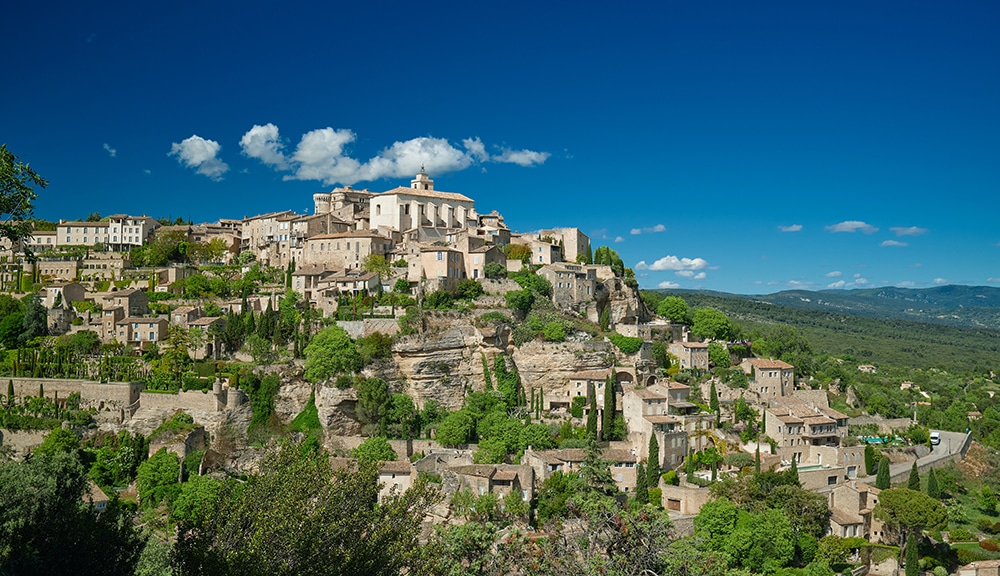 Provence-Alpes-Côte-d'Azur towns to discover during your stay at our campsite in Aiguines
As well as its enchanting landscapes, such as the Gorges du Verdon, the PACA region is packed with tourist treasures; Iconic cities such as Marseille, Nice and Cannes captivate visitors with their Mediterranean charm, rich historical heritage and cultural vibrancy;
Aiguines also offers privileged access to the hilltop villages of the Var, such as Moustiers-Sainte-Marie and Tourtour, which will immerse you in the history and culture of Provence;
After your road trip to every town in the Provence-Alpes-Côte-d'Azur region, relax in the restaurant at our campsite in Aiguines, Camping de l'Aigle;
Booking a stay at a campsite in Aiguines: practical information
Get ready for an unforgettable family holiday with children or friends by booking your stay at one of the most beautiful campsites in Aiguines; Before you set off on your travel in Provence-Alpes-Côte-d'Azur, you need to be prepared!
Search for the best campsites and selection of a star campsite: accommodation is essential for a successful stay. Choose your campsite according to the type of accommodation on offer, star-rated services and geographical location;
Campsite booking: remember to book your campsite in Aiguines in advance to avoid inconvenience!
List of things to do: for a holiday full of discoveries, you can already draw up a list of sites and towns to discover in the Var or throughout Provence-Alpes-Côte-d'Azur (Gorges-du-Verdon, Moustiers-Sainte-Marie…)
Listing of equipment to take with you: especially if you've opted to hire a pitch, remember to take everything you need – from a tent to a duvet!
Start your holiday now at one of the most original campsites in Provence-Alpes-Côte-d'Azur! Camping de l'Aigle, 3-star campsite located near the shores of Lake Sainte-Croix, opens its doors to you. Whether you're renting with family or friends, take advantage of our accommodation and pitches! Your stay will also be enhanced by our star-rated services;
Finally, our camping in Aiguines enjoys an ideal geographical location next to the most beautiful spots in this part of southern France like the Gorges-du-Verdon! For more information, don't hesitate to contact us;
What's more, after your stay at our campsite, leave us a review of the accommodation and services!