1 campsite proche de Perthuis
Campsite near Pertuis: book a holiday at the foot of the Massif du Lubéron
How to enjoy a holiday with your loved ones, children or friends that's out of this world? By choosing original accommodation! Choose our campsite near Pertuis for a unique week out in Provence-Alpes-Côte d'Azur; You won't be disappointed at this star-rated Campasun campsite; From mobile home rentals to pitch hire and a range of activities on the estate, book an incredible holiday!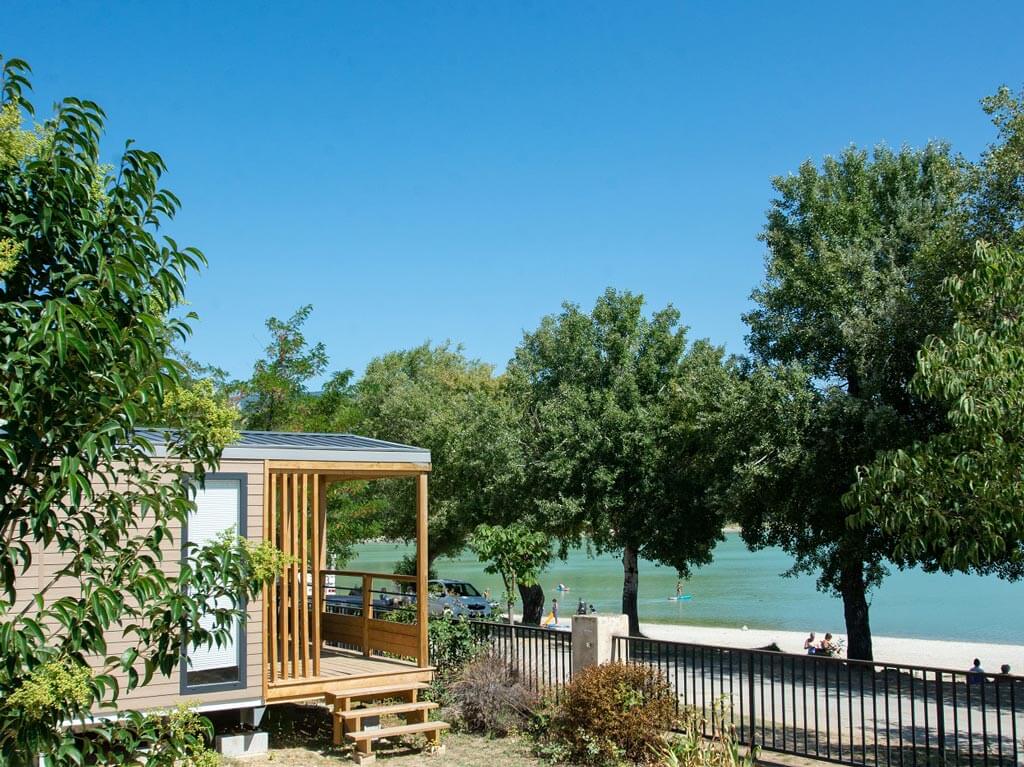 Camping de l'Étang de Bonde
Sannes (84)
Discover this campsite

Stay at the ideal campsite in Pertuis for comfortable accommodation in Provence-Alpes-Côte-d'Azur: rental of a large mobile home (cottage)

It's official: you've booked a week's holiday and you'd like to be able to go off to a dream destination; Provence-Alpes-Côte d'Azur opens its arms to you at our campsite near Pertuis; For an exceptional night's sleep in a starlit setting, we offer you the chance to rent a fully-equipped mobile home; Each cottage sleeps between 2 and 6 people for an unforgettable stay in the south of France; This fully-equipped accommodation in the Vaucluse also boasts an ideal location, close to the region's finest tourist attractions;
Take advantage of spacious pitches for a holiday close to nature in the Vaucluse
Enjoy a privileged holiday in Provence-Alpes-Côte d'Azur at our campsite near Pertuis; You can rent a mobile home on our estate, but you can also opt for pitches for your tent, camper van or caravan; Treat yourself to a natural setting for this week in the South of France with your partner, your children or your friends; Make the most of your restful nights to ensure you're in tip-top shape before a busy day full of excitement and activity! This pitch rental offers you a dream location, close to the tourist sites to visit in the Vaucluse;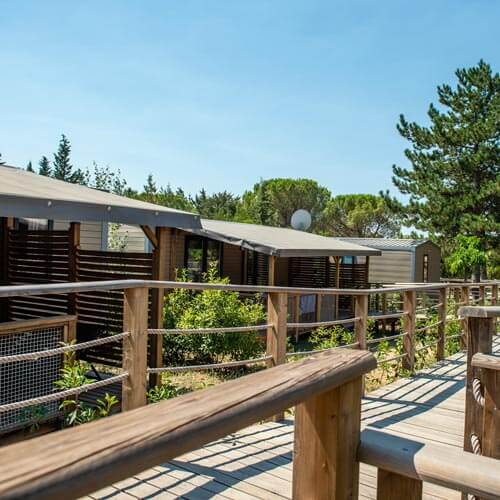 Activities and entertainment at the Etang de la Bonde campsite
Activities in the campsite
Spaces and games for children
A camping holiday means relaxing in a converted mobile home or enjoying a week in the heart of nature on a pitch, but it also means having fun with friends and family; Our campsite near Pertuis has a multi-sports pitch for football and volleyball, a tennis court, a boules pitch, a children's play area and pedalos for hire so you can have fun on the Etang de la Bonde;
An estate close to Le Pertuis, where you can enjoy a swim in a natural setting;
At our Etang de la Bonde campsite, you don't need a water park with a swimming pool! Our campsite near Pertuis offers you the chance to swim in the heart of nature, in the privileged waters of the Etang de la Bonde;
This magnificent aquatic gem, set in the bucolic heart of the Provence-Alpes-Côte d'Azur region, is surrounded by lush green hills and flourishing vineyards; The crystal-clear waters of the pond are perfect for swimming in the summer months, while the surrounding area is ideal for walking, picnicking and bird-watching;
L'Étang de la Bonde, avec ses paysages somptueux et son ambiance sereine, représente véritablement le charme intemporel de la Provence.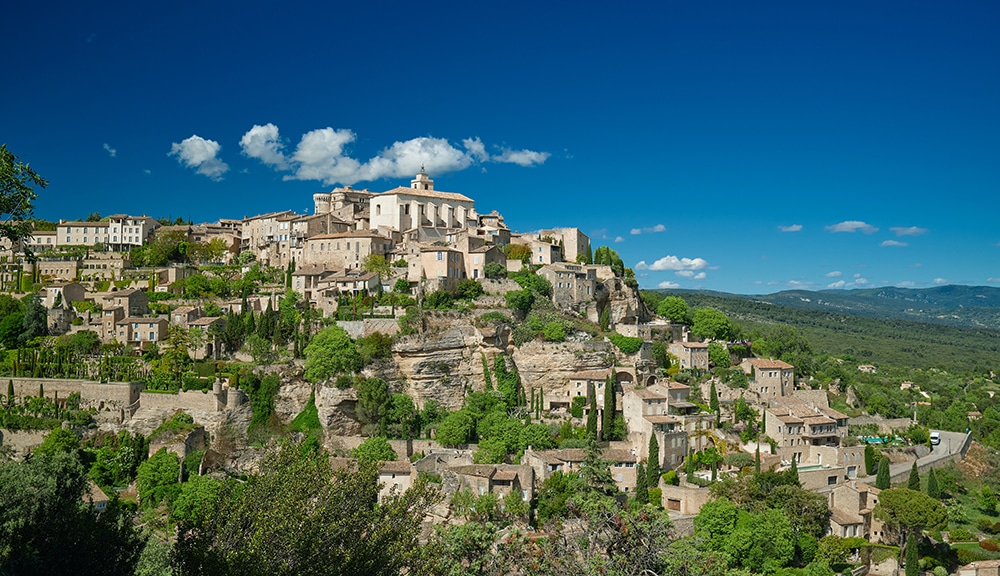 A campsite near Le Pertuis, close to the Massif du Lubéron
After taking a refreshing dip in nature at the Etang de la Bonde, it's time to set off on a hike to discover the Massif du Lubéron; This vast mountainous landscape stretches for miles and is characterised by its chalky peaks, deep gorges and lush green valleys; Its steep ridges and gentle slopes are home to an impressive array of biodiversity, making the Lubéron a paradise for nature lovers and outdoor enthusiasts alike;
Numerous hiking trails wind through the massif, offering breathtaking panoramic views of picturesque villages, historic castles and lavender fields that evoke the quintessence of Provence;
Whether it's climbing, cycling or simply taking a stroll to admire the landscape, the Lubéron offers an idyllic escape in the heart of Provence's wild beauty.
How to spend a dream holiday in Provence-Alpes-Côte d'Azur?
During your stay in Provence-Alpes-Côte d'Azur, it's important to be well-prepared to make the most of your camping experience near Pertuis; Here are a few practical tips to help make your holiday week even more enjoyable;
First of all, find out how to get to Pertuis and what local transport is available; Whether you choose to come by car, train or plane, it's essential to be aware of the different options available to you; Make sure you plan your route in advance and check public transport timetables if you plan to travel around the Vaucluse without a car;
Then take into account the best periods to book at our campsite near Pertuis; The region offers magnificent scenery all year round, but certain seasons may be more suitable for certain activities; Don't forget to book in advance to avoid finding yourself without a rental a few weeks before you leave for Provence-Alpes-Côte d'Azur;
When you stay at a campsite near Pertuis, don't forget to equip yourself accordingly; Make sure you bring clothing suited to the weather and possible variations, comfortable footwear for hiking and essential products such as sun cream and insect repellent; If you're well prepared, you'll be able to make the most of your stay in the South of France without any problems;
Finally, take advantage of the information available from the team at our campsite near Pertuis; The managers and staff on site will be delighted to advise you on local activities, recommended hiking trails and not-to-be-missed attractions; Don't hesitate to ask them for recommendations on how best to discover the Pertuis region;
Treat yourself to an unforgettable camping holiday in the South of France! Campasun offers you its star-rated campsites, including Camping de l'Étang de la Bonde; This establishment offers you a more original holiday than in a hotel, thanks to its mobile homes and pitches for hire; You'll also have the privilege of being close to some of the finest points of interest in the Provence-Alpes-Côte d'Azur region; After your stay, don't forget to leave us a review of your accommodation at the foot of the Massif du Lubéron;