Activities
What to do in Sanary-sur-Mer during your stay?
On holiday in Sanary for a weekend or a few days and you are wondering what to do in Sanary-sur-Mer to enjoy our beautiful region?
In summer and winter, there are many activities for both children and adults. Beaches, visits, activities, events… Discover our selection of activities if you stay at our campsites in Sanary-sur-Mer at Mas de Pierredon or Parc Mogador.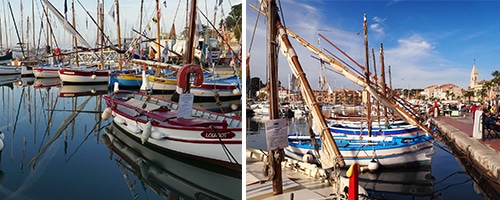 SANARY-SUR-MER ACTIVITIES: SOMETHING FOR ALL AGES
Activities in tune with the seasons
The markets of Sanary-sur-Mer
Throughout the year, many markets are offered. You will have the chance to meet local producers (seafood, fruit and vegetables, cheese, artisanal products, etc.). Our two markets in Sanary:
The weekly market in Sanary, which takes place every Wednesday morning. This market was voted the most beautiful market in France in 2018
The fruit and vegetable market welcomes you every morning, all year round, from 8am to 1pm
Sea cruises from Sanary to discover the fauna
Come to the port of Sanary-sur-Mer all year round and meet the whales and/or dolphins. Several outings are proposed, from the "simple stroll" to the longer outing with sunsets, you will have the choice.
The Tower of Sanary and its alleys
Sanary-sur-Mer is a town full of history. With nearly 700 years of history, La Tour de Sanary is a monument located in the centre of town offering a magnificent view of the town and its surroundings. After your visit, stroll through the narrow streets of Sanary amidst the colourful facades. Shops, shady squares, fountains… Discover the many treasures hidden in our beautiful city.
The Montée des Oratoires and the Chapel of Our Lady of Pity
What if you were to get a bit of height while discovering our charming city? Put on your best shoes and brush up against the steps of the Oratories. Once you reach the top, a magnificent view of Sanary and its surroundings awaits you. You can also visit the chapel of Notre Dame de Pitié, built in 1560 on the hill of Portissol.
The Zoa Parc
The animal and botanical park opens its doors all year round to young and old alike. With almost 300 animals and many plants, the park offers various workshops such as the "weekend on the farm". There are playgrounds, an exhibition hall and a catering area.
Please note: Throughout the year, the Sanary-sur-Mer tourist office offers numerous activities for families, children, teenagers and adults. To keep up to date with the various events, visit the website of the Tourist Office.

Find different activities only in summer
The designer's market
In July and August, Sanary puts the spotlight on creators with its night-time craft market. Every evening, from 7.30 p.m. to 1.00 a.m., go and meet the creators and leave with souvenirs from our beautiful region (meet along the port of Sanary).
Water sports activities
When the warm weather arrives, the sea starts to warm up and private beaches take over, many water sports activities make their return. Water skiing, towed buoy trips, paddle boarding or parasailing, there is something for everyone.
Sanary-sur-Mer, a pleasant town even out of season
The seaside resort of Sanary welcomes a lot of holidaymakers during the summer period. However, it is also very pleasant to spend a few days there during the rest of the year. With its summer climate, the most courageous can take a bath in our beautiful Mediterranean. For the cozy ones:
Our beautiful illuminated pointus in winter, especially during the Christmas period, will amaze your children's eyes. During this period, numerous activities and events are proposed (creators' markets, gourmet markets, fireworks shows, etc.).
The Just'Rosé event is organised every year. This is a major wine event that takes place in the spring and features over 70 exhibitors from Provence.
WHAT TO DO IN SANARY-SUR-MER WHEN IT RAINS?
Yes, you read that right, even in the South we sometimes have some showers. But don't panic, we have selected some activities to do in Sanary when it rains.
Laser Game: who will reach the most people? What better way to add a little competition to your day than with a laser game? Accessible to both adults and children (minimum height 1.20m), this is the perfect activity.
Where to go? You have the Laser Blast in Bandol, the Laser Game Évolution in Six-Four-les-Plages or Toulon and the Laser Star83 in La Garde.
A game of bowling? Challenge your friends or family to a game of bowling: the loser has to pay for the aperitif. Available during the day and in the evening, it is the perfect activity for grey weather.
Where to go? You have a bowling alley in Bandol and a bowling alley in La Garde.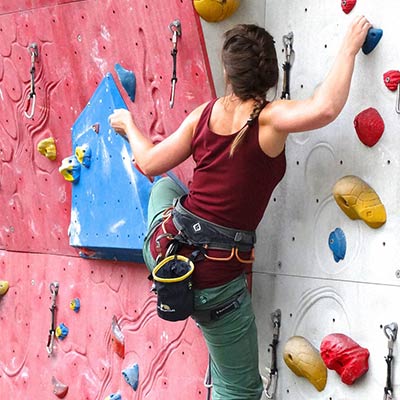 The aquatic complex: With its relaxation area (jacuzzi, sauna, hammam), its two pools and a slide, the whole family will have a pleasant time. If the sun is shining, you can enjoy the solarium.
Where to go? At the Sanary aquatic complex.
Book an escape game: How about solving investigations and beating the record time of previous teams? Ideal when the weather is gloomy, put on the gadget detective trench coat and solve the riddles.
Where to go? See you at In Time or Aenigme in Six-Fours-Les-Plages and Lord Blackwood's Manor in Ollioules.
What film has been released recently? Whether you like candy or popcorn, you are bound to be satisfied at the cinema. Sit back and enjoy your film.
Where to go? At the Pathé cinema on Avenue 83.
Climbing walls for young and old: Can you make it to the top? Test the different climbing walls and challenge your friends and family.
Where to go? At the Roc'en Seyne municipal climbing gym.
THE MOST BEAUTIFUL BEACHES IN SANARY-SUR-MER: WHICH BEACH TO CHOOSE AND WHERE TO GO TO SEE THE SUNSETS
Portissol Beach
Only 15 minutes' walk from Sanary town centre, this magnificent natural beach offers superb views in an idyllic setting (ideal for getting some colour). This 200-metre long white sandy beach welcomes you in summer and winter for sunny days with breathtaking sunsets.
Lido Beach
Labelled "Handiplage" in June 2017, this is the last beach before arriving in Bandol. This beach, 400 metres long, is home to the Plage Dorée and the Plage de la Roche Taillée.
Bonnegrâce Beach
Ideal for admiring the sunsets over the sea, Bonnegrâce beach is located between Six-Fours-Les-Plages and Sanary-sur-Mer. With its many restaurants, it is the ideal spot to sip a good cocktail while watching the sun dip into the Mediterranean.

OUR SELECTION OF VISITS AROUND SANARY-SUR-MER
The Massif du Gros Cerveau
Overlooking Sanary, this 429m high mountain offers sumptuous views over the Mediterranean Sea. Many paths are marked out, allowing you to discover our fauna and flora, while enjoying a pleasant moment, far from the crowd and traffic!
Good to know: the massif is classified as a natural zone and you will find 10 climbing areas. Moreover, the massif is inaccessible by car from 15 June to 30 September.
Paul Ricard Islands: beaches & coves
The Paul Ricard Islands are named after their owner. In the 1950s, Mr Paul Ricard bought the island of Embiez and the island of Bendor. Today, only the island of Les Embiez is accessible. Located off the coast of Six-Fours-les-Plages, it is a real haven of peace accessible by boat. On the program: green nature, hiking, beautiful coves…

The Mediterranean Park
Covering approximately 10 hectares, the Mediterranean Park located at the tip of Cap Nègre offers magnificent views of the Ile des Embiez and the Brusc lagoon. Ideal for a stroll, this green park offers various areas for a picnic or an afternoon of sunbathing.
The Big Brain Observatory
To admire our starry sky, go to the Gros Cerveau observatory in Ollioules. In addition to contemplating the stars, you can enjoy, day and night, the magnificent view of Toulon with the added bonus of superb sunsets.
A day at Porquerolles or the Cassis creeks
From the port of Sanary-sur-Mer or Bandol, you will find many excursions to the island of Porquerolles or the creeks of Cassis. Allowing you to explore our beautiful Côte d'Azur, you will skirt our magnificent white sandy beaches, dive into our clear turquoise waters or admire the Calanques National Park.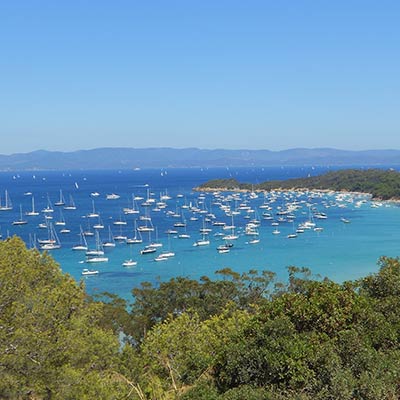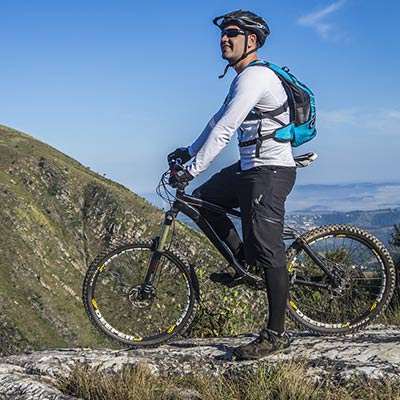 Discover our region by bike
There are some great bike rides in the area around Sanary-sur-Mer. For example, with your bike or a rental bike, leave from the Bonnegrâce beach in the direction of Le Brusc, continue towards the Janas forest, without forgetting to make a small diversions to Notre-Dame du Mai (magnificent viewpoint).
Le Coudou park
Would you like to spend a convivial moment with your family or friends? The Coudou Parc, located in Six-Four-les-Plages, offers many activities for everyone's enjoyment: accrobranche (tree climbing) from 2 to 99 years old, outdoor Laser Game…
Please note: The park is open from mid-February to mid-November.
The Ephemeral Nights
How about a rhythmic evening at sea? This is what Les Nuits Éphémères offers you! In July and August, meet on Thursday evenings at the port of Bandol and take to the sea. On the programme: sunsets, 500 m² boat with dancefloor, bar, DJ, cocktail party… All the ingredients for a great summer evening.
Now that you have your checklist of things to do in Sanary-sur-Mer, all you have to do is enjoy it with your family or friends. So, are you more of a beach person, a hiker or a discoverers museums? Book your stay at our campsites in Sanary-sur-Mer and enjoy our beautiful region.