4 campsites with private Jacuzzi
Camping with private jacuzzi in the South of France: relaxation and luxury with Campasun
Campsite with private jacuzzi: enjoy a relaxing break in the south of France
Looking for a relaxing holiday in the South of France? Choose a campsite with a private jacuzzi, the ultimate experience in relaxation and luxury!
If you're wondering how to find a campsite in the south of France with a private jacuzzi, you've come to the right place; 4 of our 8 star-rated Campasun campsites have mobile homes with private jacuzzis;


Camping International
Aups (83)
Discover this campsite

Camping International d'Aups

In the small village of Aups in the Var, our International d'Aups campsite offers 4-star quality accommodation. It has 65 pitches and 64 rental units, including a number of mobile homes with private Jacuzzis; Located on the wooden terrace, the private spa is the little extra that makes all the difference; Once you've immersed yourself in the 35°C water and massaged your body in the bubbling baths, all that's left to do is relax and enjoy the view; And here's some good news: from our private Jacuzzis, you can look out over the estate's lush, wooded grounds; There's nothing better for a wellness holiday! Our mobile homes with private Jacuzzi, measuring 32 to 33 m², sleep up to 6 people;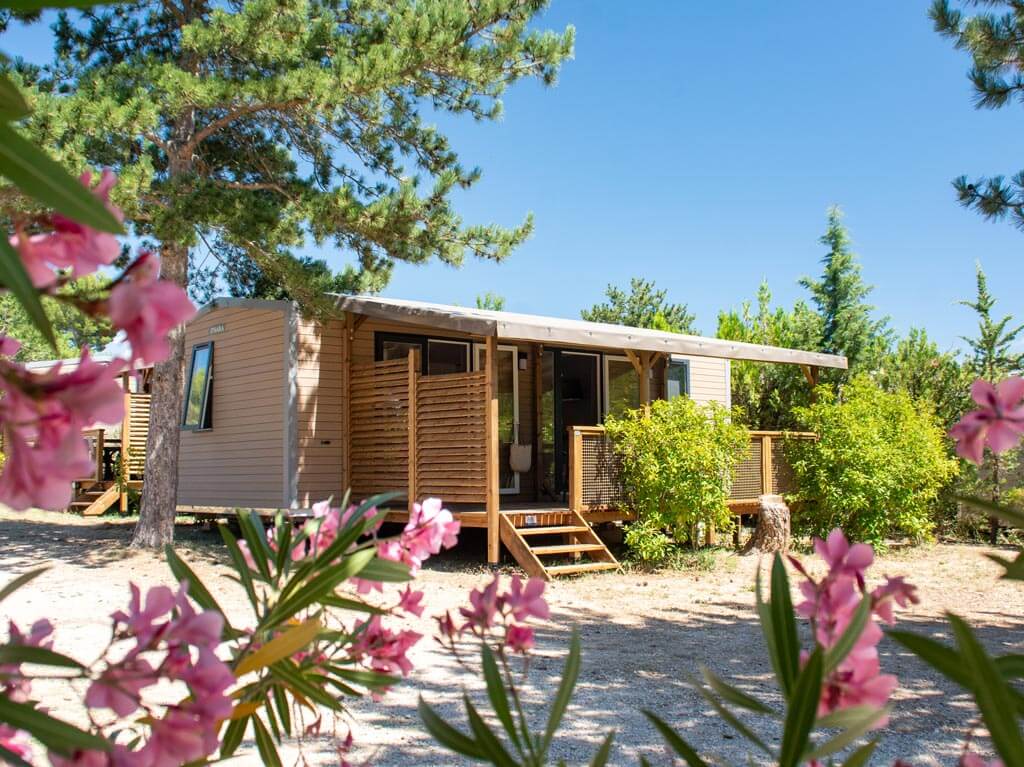 Camping les Hautes Prairies
Lourmarin (84)
Discover this campsite

Le Camping Les Hautes Prairies

Our Les Hautes Prairies campsite is nestled in the heart of the Luberon, in the small village of Lourmarin; It has 71 pitches for tents and motorhomes, as well as 81 mobile homes and 6 hotel rooms; Among these mobile homes, you may be lucky enough to book one with a private Jacuzzi! This whirlpool is ideally placed on the wooden terrace and offers a breathtaking view of the campsite's park and trees; Customers who have stayed in one of these mobile homes are all of the same opinion: the private jacuzzi is a real asset that is much appreciated on holiday; They also praised the excellent upkeep by the campsite team; Book a premium mobile home with private Jacuzzi measuring 28 to 35 m², sleeping up to 6 people;


Mas de Pierredon Campasun
Sanary-sur-Mer (83)
Discover this campsite

Le Camping Mas de Pierredon

In Sanary-sur-Mer, on the Côte d'Azur, enjoy the pleasures of a jacuzzi at home by renting one of our mobile homes equipped with one; Turn on the water and enjoy the jets massaging your skin; Enjoy the peace and quiet that surrounds you; You'll feel as if you're all alone in the world in this haven of serenity, just for you!

And for maximum comfort during your summer break, each of our mobile homes with spa comes with a dishwasher, air conditioning, garden furniture, TV and barbecue; A luxury that few campsites offer; Our mobile homes with private Jacuzzi can accommodate up to 8 people in a surface area of 34 to 36 m²;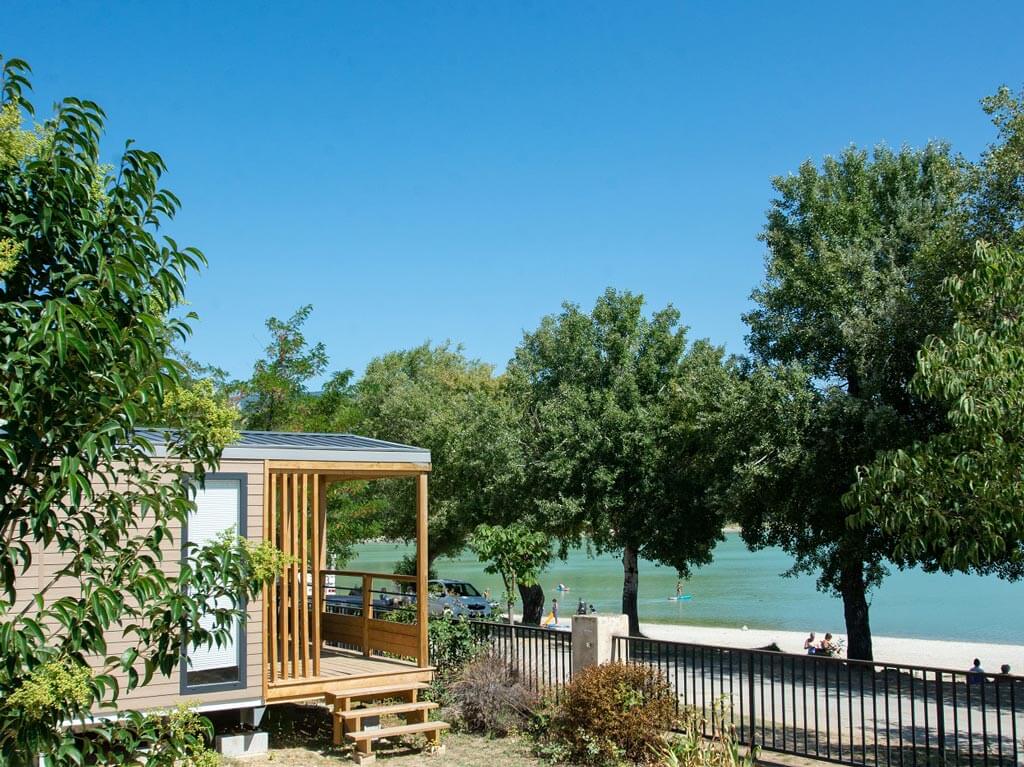 Camping de l'Étang de Bonde
Sannes (84)
Discover this campsite

Le Camping Étang de la Bonde

In Sannes, in the Vaucluse, near the Étang de La Bonde, is another of our campsites equipped with a private jacuzzi: camping Étang de la Bonde; Can you imagine yourself splashing around in your private Jacuzzi with a splendid view of the Étang de La Bonde in front of you? This is what you can expect if you book a cottage with a private jacuzzi at our campsite; The spa is located on the wooden terrace, creating a cosy cocoon where you can take refuge after an active day;

With a surface area of 33m², our cottage can accommodate up to 4 people; Ideal for a relaxing week with the family!
Our other types of rental accommodation at campsites
Why choose a campsite with a private jacuzzi in the south of France?
During the holidays, even more than the rest of the year, we feel the need to treat ourselves; Slipping into the bubbling water of a jacuzzi and letting the water massage your body is absolute relaxation that feels great; A moment of well-being that's much appreciated, especially when the spa is private;
If you're going on holiday as a couple, you'll love this time to yourself; Make it even more unforgettable with a sweet treat or cocktail!
If you have children and feel the need to take some time for yourself, leave your children at the kids' club; they'll be in safe hands with our dynamic entertainers; In the meantime, take a well-earned break in your private Jacuzzi, admiring the lush grounds of the estate in front of you, or reading a book in this calm and peaceful space;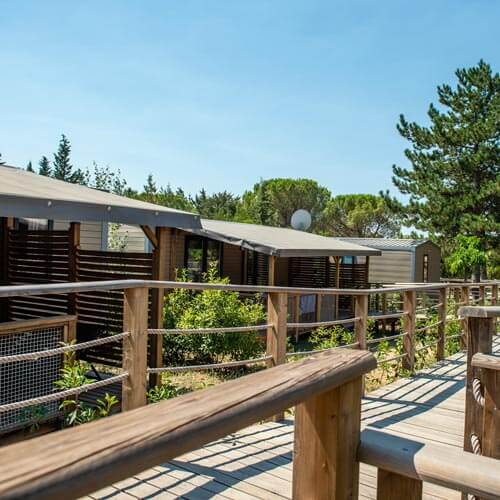 When you're on holiday, it's vital to do something good for yourself, so don't wait any longer to book your premium mobile home with private Jacuzzi at one of our star-rated campsites in the south of France; Hurry up, they're a hit!
The best part is? You don't need to break the bank to treat yourself to this luxurious break; Our campsites with private Jacuzzi are very affordable; So you can enjoy a relaxing break without worrying about your wallet;
Relaxation, luxury, comfort and well-being await you and your family at our campsites with private jacuzzi in the south of France; Get ready for moments of pure happiness and absolute relaxation in your idyllic rental property;