2 campsites with unusual accommodation
Unusual rentals in the south of France: discover unique experiences at Camping de l'Aigle and Camping le Soleil
Are you dreaming of an unforgettable getaway in the South of France, where you can stay in an unusual rental surrounded by magnificent scenery? Look no further! Camping de l'Aigle in the Gorges du Verdon and Camping le Soleil in Esparron-de-Verdon in the Provence-Alpes-Côte-d'Azur region are the ideal campsites for a unique and memorable family experience;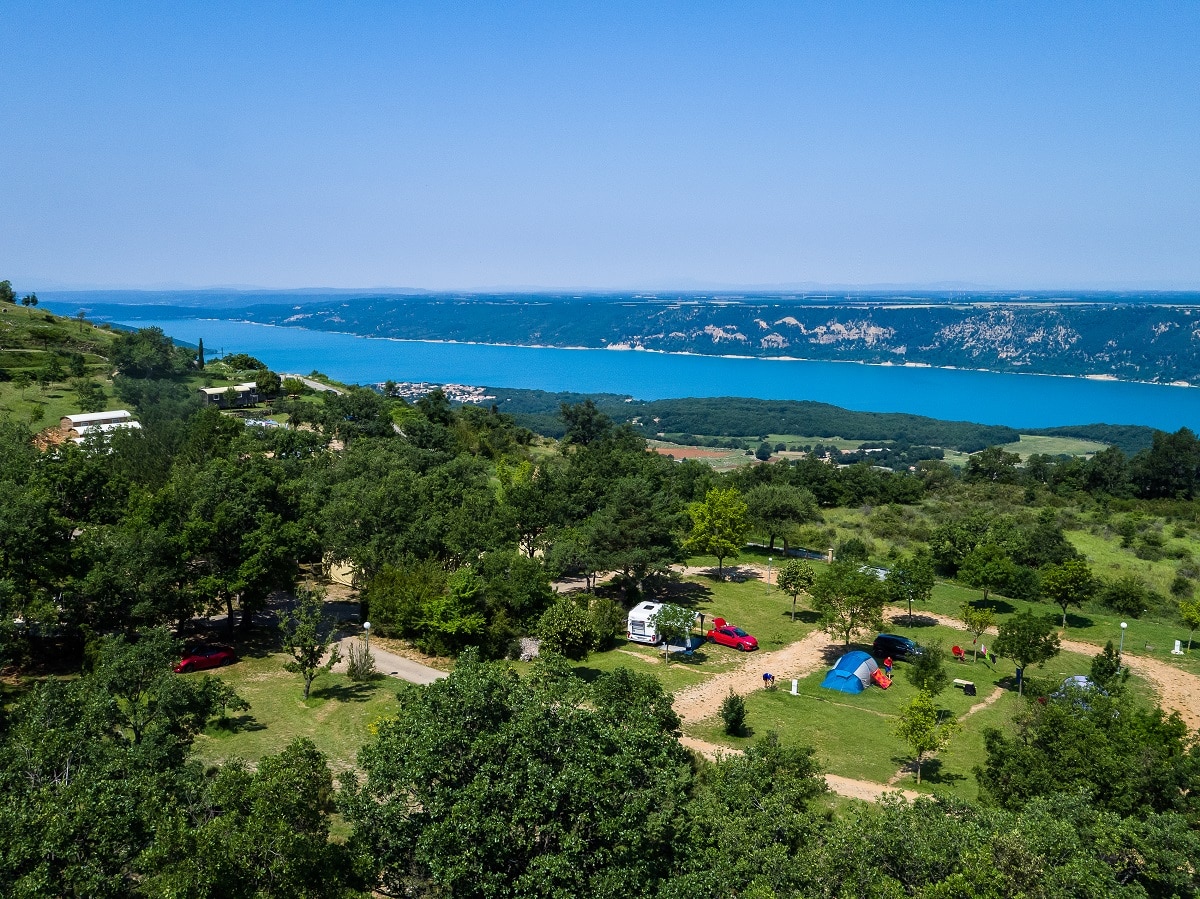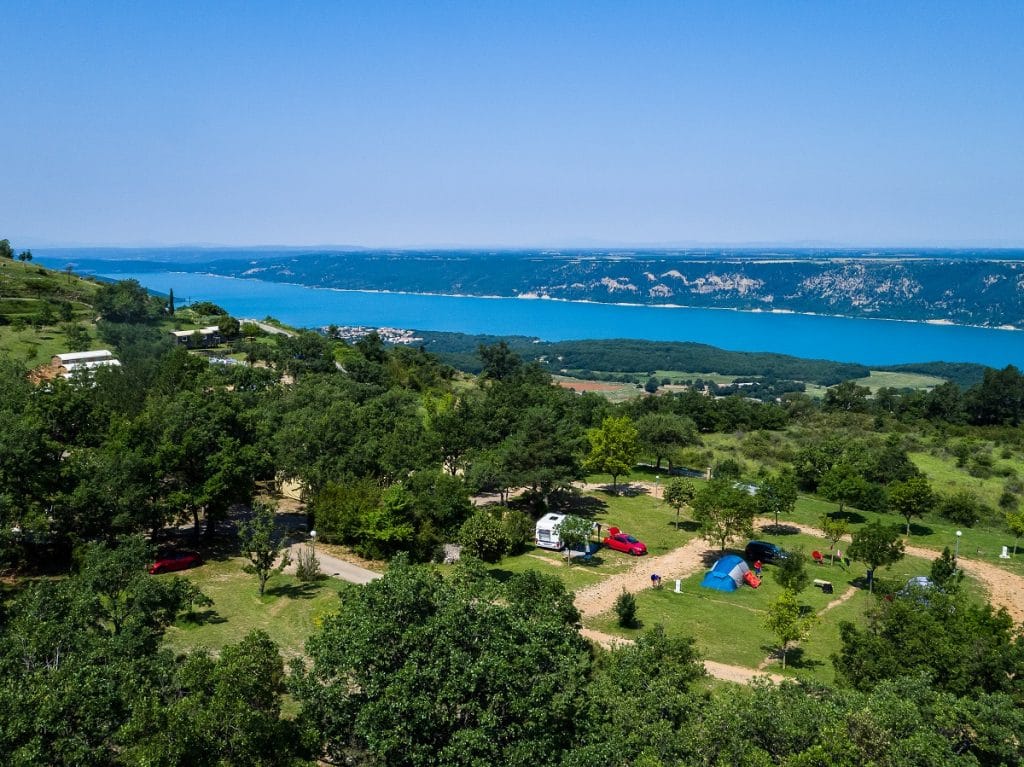 Camping de l'Aigle
Aiguines (83)
Discover this campsite

Your unusual rental in the south of France, in the Gorges du Verdon

Our Camping de l'Aigle, located in the small village of Aiguines, offers you a wide choice of unusual accommodation, perfectly integrated into its natural surroundings; Would you prefer to spend the night in a caravan surrounded by trees? In an eco-lodge in the heart of a park? Or in a rudimentary pod? Each type of cabin has its own surprises and comforts in store! Discover our unusual accommodation at Camping de l'Aigle, for an unusual stay in this beautiful corner of Provence;

Sleep in a pod

Holidays mean a change of scenery! Why not get out of your comfort zone while you're camping? Dare to rent an unusual pod!

The pod is a type of rounded dwelling made from a variety of materials, most often wood; This unusual accommodation is designed to blend in harmoniously with its surroundings, while providing appropriate insulation and waterproofing; There are several types of pod, ranging from simple, affordable models to more luxurious versions; But at the Camping de l'Aigle, our pod is rudimentary; It is very small (6 m²) and contains no sanitary facilities, bathroom or kitchen; Suitable for up to 2 people, it has just one bedroom with 2 beds and a terrace with a dining table;

The peaceful surroundings guarantee a restful night's sleep; The terrace, set in the heart of a wooded park, is the perfect place to relax; Ideal for a leisurely breakfast, a refreshing siesta or a lunch close to nature!

Because of its unique design and ability to offer an enhanced camping experience, our pod cabin is a popular accommodation option for those looking to connect with nature while enjoying a certain level of comfort and convenience. Perfect for an unusual and peaceful romantic holiday!

Spend a peaceful night in a caravan

The caravan evokes nomadism, adventure and closeness to nature; This type of mobile home is traditionally used by the nomadic Roma community; Today, caravans have evolved to become a form of alternative or unusual accommodation for those looking for a single night's stay;

Camping de l'Aigle has 2 caravans: the first has a view of the countryside, the second offers a magnificent panorama of the Lac de Sainte-Croix;

These 2 unusual accommodations are made of wood and their interiors are beautifully decorated in a modern style; With a surface area of 20 m², two separate bedrooms, a bathroom and a kitchen, our caravans can sleep up to 4 people; The small terrace in front of your caravan guarantees you pleasant moments of relaxation and meditation facing the lake or surrounded by nature;

Staying in a caravan offers a unique experience and a different way of travelling, with a bohemian touch; It's a pleasant and unusual way to spend a holiday, offering a connection with nature while maintaining a certain level of comfort; So if you're looking to escape city life and connect with nature, while enjoying the charm of unusual accommodation, then a caravan is for you!

Go for the charm with Coco Sweet

Coco Sweet is an innovative and unusual type of accommodation that combines the comfort of a mobile home with the natural experience of camping; The aim of this charming little cabin is to offer a fun and affordable alternative to traditional holiday accommodation;

In terms of design, Coco Sweet looks like a rounded tent with a solid structure; The interior is well organised with functional spaces including a kitchenette, two bedrooms and a small terrace with table; The Coco Sweet doesn't usually offer as much luxury as a traditional mobile home or hotel room; you won't find a bathroom or toilet inside, but that's the charm of this unusual accommodation!

Camping de l'Aigle's Coco Sweet is ideal if you're looking for a camping experience closer to nature, but with more comfort than a traditional tent; You'll love your camping holiday in Provence-Alpes-Côte d'Azur in this charming little bubble!

Try an overnight stay in an eco-lodge..;

The eco-lodge is a type of accommodation designed to have a minimal impact on the environment (construction using local materials, use of renewable energy sources, water recovery, etc.); At Camping de l'Aigle, our eco-lodge is a pretty wooden hut surrounded by trees that blends harmoniously into the natural surroundings;

Ideal for a family break, our 34 m² eco-lodge has 2 bedrooms and sleeps 4; It has a kitchen but no toilet or bathroom; On the other hand, you can enjoy the wooden terrace overlooking the green parkland;

Si vous recherchez un hébergement insolite dans le sud de la France qui vous permette de profiter de la beauté de la nature tout en minimisant votre impact sur l'environnement, alors n'hésitez plus et choisissez l'eco-lodge !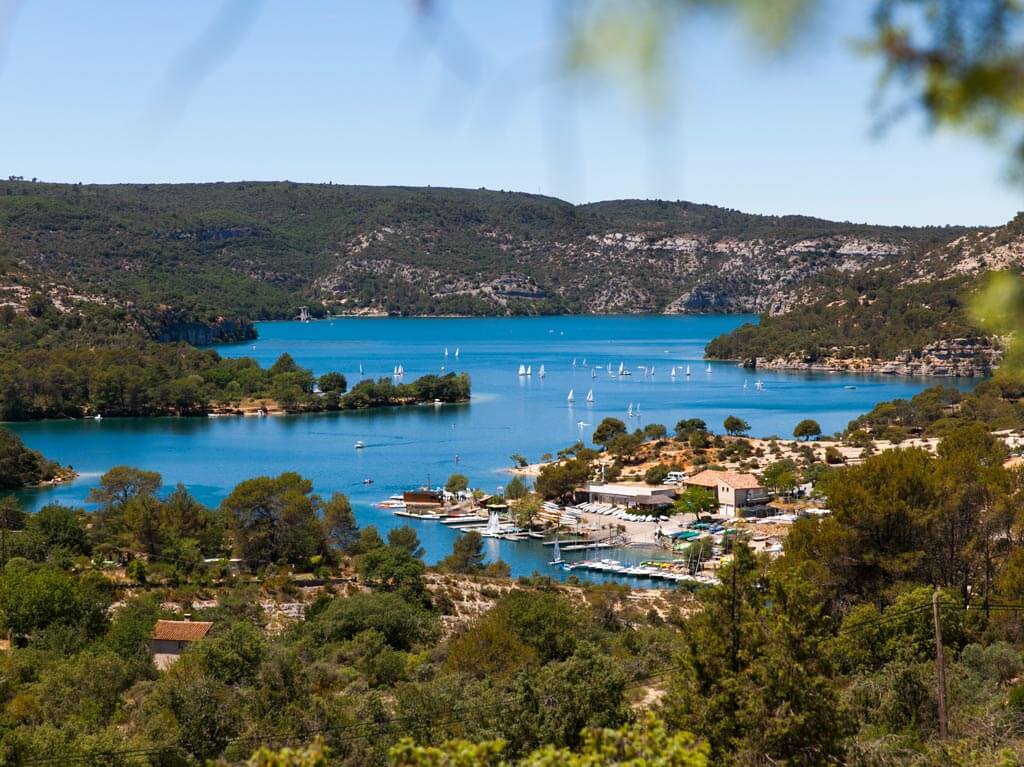 Camping le Soleil
Esparron de Verdon (04)
Discover this campsite

Your unusual accommodation in Provence-Alpes-Côte-d'Azur in Esparron-de-Verdon: book at Camping le Soleil

Spend a special holiday with your loved ones in Provence-Alpes-Côte-d'Azur thanks to an unusual rental in the south of France; Our Le Soleil campsite, one of Campasun's Michelin-starred campsites, offers you an unusual week's holiday in atypical accommodation; Discover the accommodation on offer on our estate and make your choice to start your nights at our establishment in Esparron-de-Verdon;

Staying in a tent in Kenya

The first unusual rental in the south of France offered by our Soleil campsite: discover the Kenya tent; This tent can accommodate 2 to 5 people for a unique stay close to nature; Its design gives you the authentic experience of a true adventurer; From the beds to the kitchen, everything you need is included in this type of accommodation, with the exception of the sanitary facilities, which are close to the accommodation and not inside it; Thanks to the tent's location, you'll have an uninterrupted view of the lake at Esparron-de-Verdon; Idyllic!

Book the Cabanon Lodge

An unusual 20m² rental, the Lodge Cabanon offers two separate bedrooms and a fully-equipped kitchen for holidays with friends or a family with children; The public toilets are accessible for your convenience; You'll spend your holiday close to nature, just a short stroll from the Esparron-de-Verdon lake, where you can take an afternoon dip; Take advantage of the translucent water and lush surroundings during this unique stay in Provence-Alpes-Côte-d'Azur;

Rent the Marquise tent

The latest unusual rental in the south of France to be offered by our campsite in Esparron-de-Verdon, the La Marquise tent also offers a unique design and a certain level of comfort; Originality and beauty are the key words that inspired its creation; Combining wood and fabric, this unique accommodation is perfect for your holidays in Provence-Alpes-Côte-d'Azur; Make the most of these 19m² to sleep or eat; There are no sanitary facilities or bathrooms in this rental, but you do have access to public amenities;
Our other types of rental accommodation at campsites
Book now your unusual stay at Camping de l'Aigle or Camping le Soleil
So, are you ready for an unusual night out in Provence-Alpes-Côte d'Azur, with your family or your loved ones, for a weekend or a week? Don't delay in booking your unusual stay at Camping de l'Aigle or Camping du Soleil, depending on your preferred pitch! Let yourself be seduced by the variety of unusual accommodation and the beauty of the Gorges du Verdon and Esparron-de-Verdon;
Do you need help booking your holiday at one of our Campasun campsites? Our team will be happy to answer any questions you may have or provide you with any information you may require (capacity of unusual accommodation, prices and availability of cabins, activities to do near the estate, etc.);
Imagine waking up in your unusual accommodation, in the heart of a lush park, with birdsong to greet you, or gazing up at the stars from your private terrace… At Camping de l'Aigle and Camping le Soleil, you'll be immersed in an authentic and exotic atmosphere, ideal for relaxation and discovery; Because that's what holidays are all about!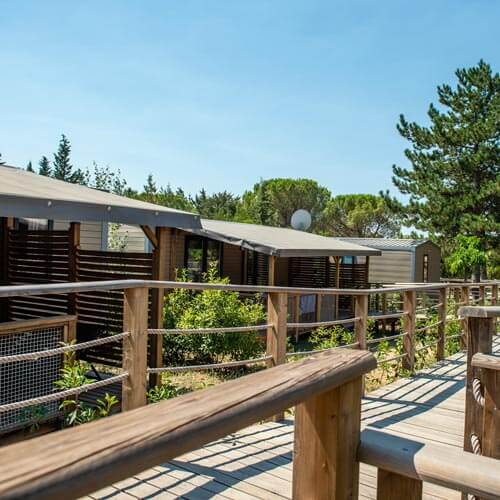 Unusual accommodation in the heart of the Gorges du Verdon
A rejuvenating holiday awaits you at Camping de l'Aigle, just a stone's throw from the Gorges du Verdon!
Often regarded as Europe's most beautiful canyon, this spot in south-east France (between the Provence-Alpes-Côte d'Azur and Var regions) is breathtakingly beautiful;
With a length of more than 25 kilometres and a depth of up to 700 metres, the Gorges du Verdon are an impressive sight; The landscape is characterised by steep limestone cliffs and emerald green waters, giving the area a unique and captivating beauty;
Enjoy a range of outdoor activities for all the family, including canoeing, kayaking, rafting and climbing, as well as paragliding and canyoning for thrill-seekers; And plan a hike along the GR4 trail; This route, which follows the gorges, is very pleasant and easy to do;
Once you've visited the Gorges du Verdon, you can spend some pleasant moments at Lac de Sainte-Croix, right next to our campsite; This artificial lake was created in 1973 with the construction of the Sainte-Croix dam and is the fourth largest lake in France; It's perfect for pedalos, sailing and, of course, family swimming;
And don't forget to take a dip in the estate's communal spa, for a welcome break after an active holiday!