1 campsite near Annecy
Campsite near Annecy: spend your nights at Clos du Pin during your holidays in Auvergne-Rhône-Alpes
You love the mountains and would like to spend an unforgettable holiday there? All you need to do is find the ideal accommodation for a rejuvenating night's sleep! Discover our campsite near Annecy – Camping le Clos du Pin; Our establishment offers you the chance to hire a gypsy caravan for a unique stay in the Auvergne-Rhône-Alpes region; Your week on the campsite is close to the ski slopes and the region's points of interest; Introducing our Michelin-starred estate in south-east France;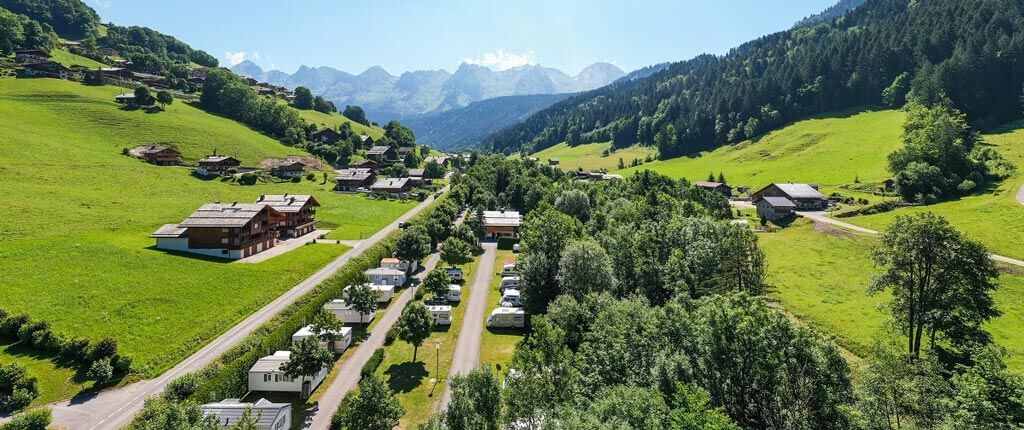 Camping le Clos du Pin
Grand-Bornand (74)
Discover this campsite

Book an unusual rental for your camping holiday near Annecy

Don't miss the chance to book your stay at a campsite near Annecy, with its breathtaking views of the mountains; Our estate offers several types of rental, including an unusual mobile home: a roulotte; Our caravans have two bedrooms and can sleep up to four people; Original accommodation awaits you for a unique holiday in Auvergne-Rhône-Alpes; And what's more, there's a little terrace where you can toast the day with your other half! Once you've settled in, let yourself be charmed by the natural beauty of the region; Take a dip in the crystal-clear waters of Lake Annecy, explore the hiking trails that wind through the surrounding mountains, or simply relax and take in the breathtaking scenery;
Departments and towns of our campsite near Annecy
Enjoy a camping holiday by booking pitches near Annecy
If the caravan offers you an unusual location, you can also opt for simplicity and harmony with nature thanks to our pitches; You can come to our campsite near Annecy in a tent, camper van or caravan;
Our pitches include electricity, heated sanitary facilities and access to the estate's facilities; What's more, you'll benefit from prices that are even more affordable than those for renting an unusual mobile home; When you book your stay at a campsite near Annecy, you can be sure of an unforgettable holiday with your family and children, with friends or as a couple; Enjoy the friendly atmosphere of our estate, with its varied activities and moments of relaxation in the heart of unspoilt nature;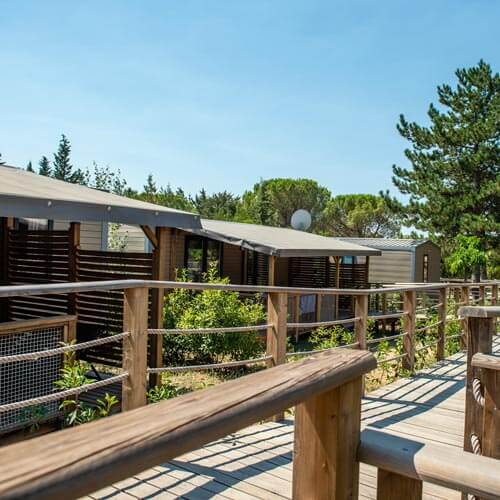 Discover Annecy and the surrounding area during your week's holiday at Camping le Clos du Pin;
During your stay at a campsite near Annecy in Haute-Savoie, you'll be delighted by the multitude of activities and discoveries on offer; Between the sparkling waters of Lake Annecy and the majestic mountains that surround it, this corner of France is a veritable paradise for nature lovers; To make the most of this exceptional setting, it's time to book at our campsite in Auvergne-Rhône-Alpes!
Discover Lake Annecy, in Haute-Savoie
Start your adventure with a trip to Lake Annecy. Hire a paddle or kayak to explore the crystal-clear waters at your own pace; Admire the picturesque shores, stop off at a quiet beach and swim in the refreshing water; You'll be amazed by the natural beauty that surrounds you during your stay in Haute-Savoie at our campsite near Annecy; Afterwards, you can relax in the campsite restaurant;
Visit Annecy city centre in Auvergne-Rhône-Alpes
The Annecy region is also full of cultural and historical treasures; Visit the charming town centre of Annecy, known as the Venice of the Alps, with its picturesque canals and medieval streets; Don't miss the Château d'Annecy, which houses a museum of art and history, and discover the fascinating history of this heritage-rich region; Then return to our campsite near Annecy; With an unusual mobile home, spacious pitches and a delicious restaurant, our estate offers you a warm welcome during your stay in Haute-Savoie;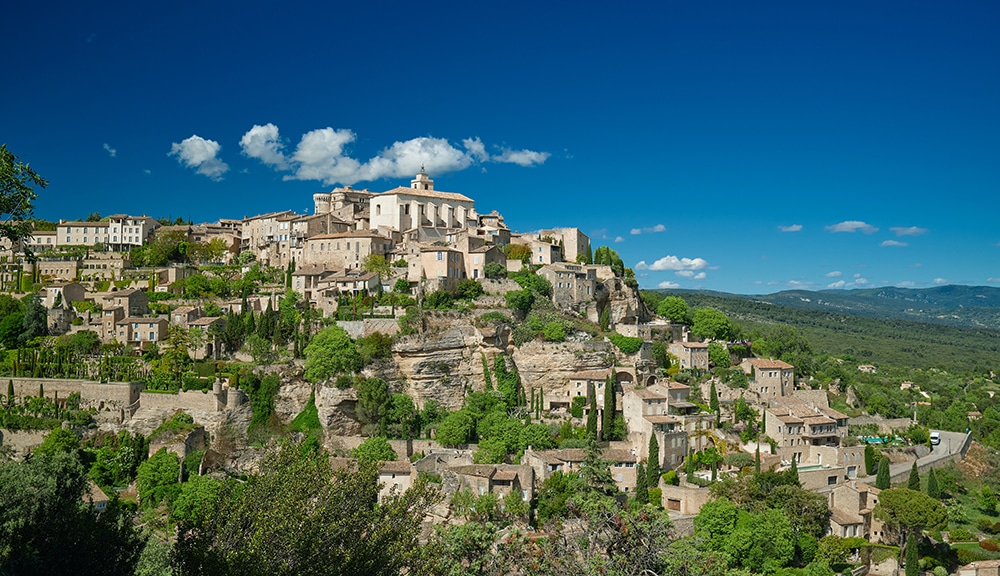 Take advantage of the outdoor activities on offer in Haute-Savoie
For hiking enthusiasts, the surrounding mountains offer a wide range of trails to discover; Whether you're a beginner or an expert, you'll find routes to suit all abilities; Along the way, enjoy breathtaking views of Alpine peaks, lush green valleys and impressive waterfalls; Haute-Savoie offers you the privilege of discovering different scenery throughout the seasons; In winter, enjoy an afternoon on the slopes A short distance from one of the best campsites in Auvergne-Rhône-Alpes: Camping le Clos du Pin;
Savour the local gastronomy during your week's holiday to Annecy
Annecy doesn't just seduce with its natural beauty; Its gastronomy is also a real treat for the taste buds; Don't miss out on the Savoyard specialities for which it is famous; Enjoy a fondue with melting cheese, savour a generous raclette accompanied by mountain charcuterie or succumb to a blueberry tart, typical of the region; Local products, such as Savoie cheeses and wines, will give you an unforgettable taste experience; You can even give them to your friends and family when you get back from your week's holiday in Haute-Savoie; And after you've satisfied your taste buds? Digest in peace in the bedroom of your unusual mobile home in Auvergne-Rhône-Alpes;
Practical advice for a successful camping holiday near Annecy: booking, access and activities
Are you ready to plan your camping holiday near Annecy? Here are a few practical tips to help you organise your trip to south-east France and make the most of your outdoor experience;
Booking a mobile home at a campsite in advance
The first essential step in planning your holiday in south-east France is to book your mobile home or camping pitch in advance; As Annecy is very popular, we recommend you book early to guarantee availability of the pitch or mobile home that meets your requirements; Visit the website of our campsite near Annecy to check availability and book online for comfortable accommodation in Auvergne-Rhône-Alpes;
Draw up a list of public transport options in Annecy and the surrounding area;
There are several options for getting to the Annecy region; If you're travelling by car, plan your itinerary in advance and take breaks to enjoy the scenery on the way to your reservation in Haute-Savoie; If you prefer public transport, there are train and bus services in the area, so you can easily get to your campsite near Annecy; What's more, this transport will come in handy if you want to leave the car on the estate and enjoy your week's holiday without driving!
Make a list of things to do in Haute-Savoie
For a successful stay in Haute-Savoie, it may be essential to plan ahead; Drawing up a list of things to do in Auvergne-Rhône-Alpes, including the distance between the destination and the campsite, will help you organise your days and discover as many points of interest as possible during your holiday; The south-east of France has plenty of surprises in store for you; Enjoy all these wonders at our affordable campsite near Annecy;
Take camping equipment with you, especially if you are staying on pitches;
Finally, don't forget to pack all the essentials for your stay at a campsite near Annecy, especially if you choose to rent a pitch; Bring a quality tent, comfortable sleeping bags, weather-appropriate clothing and hiking boots; And don't forget toiletries, mosquito repellent and sun cream to protect you from the elements;
It's time to book your week's holiday at one of the most beautiful campsites in Haute-Savoie! Camping le Clos du Pin invites you to an adventure in a mountainous corner of France, green in summer and snowy in winter; We think you'll love this budget break in a privileged destination! And if you want to book a holiday in the south-west of France? Discover Campasun's other starred campsites!