Activities
Amusement parks in the Var : Have fun with family and friends
In the vicinity of our campsite Parc Mogador and campsite Mas de Pierredon in Sanary-sur-Mer there are several theme parks where you can have an unforgettable time. But which one to choose? For this, we have selected the best amusement parks in the Var. Whether you are a fan of water parks or a thrill-seeker, there is something for everyone. Let us guide you through our selection of amusement parks or water parks in PACA!
THE BEST AMUSEMENT PARKS IN THE VAR
3, 2, 1… Take note, here are the 6 Var theme parks we prefer! 6 parks that will make your holiday memorable.
1 | Funnyland, La Seyne-sur-Mer
About 20 minutes drive from your campsite in Sanary-sur-Mer, you will find Funnyland in La Seyne-sur-Mer. Its location is ideal for combining a day at the beach and the park. While your children are having fun in this paradise, you can relax. On the programme: rides, shows, catering and a friendly atmosphere. Visit the Funnyland website to find out more about the openings.
2 | OK Corral, Cuges-les-Pins
Looking for a place to spend an adventurous day? OK Corral, located 25 minutes from Sanary, is the perfect place. The park is open from April to November and offers a number of rides, restaurants, shops, picnic areas and shows. Don't forget to bring your swimming costume, as there are some refreshing attractions waiting for you.
Please note: If your children are dressed up, admission is free. So it's time to get out their best costumes.
3 | Magic world, Hyères
From the end of May to the beginning of September, Magic World offers magical experiences from 8pm to 2am in Hyères. With 40 attractions for all ages, with thrills and spills, 3 food courts and a great atmosphere, you won't have time to get bored. It is the perfect place to end the day on a high note. Its location is excellent for combining a day on the Presqu'île de Giens and at the park.
4 | Kids Motor Park, Aubagne
Looking for a children's park not far from your campsite in Sanary-sur-Mer, in the Var? About 30 minutes by car you will discover Kids Motor Park, a real playground with many activities: laser game, electric karts, rope pyramids, inflatable structures…
A little hungry? Have a picnic in the park or visit the snack bar. This park is open all year round. You can find the opening hours directly on the website.
5 | Magic Park Land, Martigues
Near Martigues, about an hour's drive from your campsite in Sanary-sur-Mer, Magic Park Land welcomes you from March to the end of November. Baby Boat, Infernal Tower, Crazy Fly, Frisbee… Attractions for young and old are offered as well as shows, a restaurant and shops to take home souvenirs. Located between the sea and the Etang de Berre, in a natural environment, it is the perfect park for the whole family!
6 | Azur Park, Saint-Tropez
From April to September, spend your day at Azur Park, located in Saint-Tropez. In addition to its 35 attractions suitable for all ages, this park offers a Tropical Golf in a prehistoric animal setting. At the heart of the attractions, you will find a restaurant where everything is home-made. But why go all the way to Saint-Tropez? During your journey, you can stop off in some beautiful coastal towns: in Le Lavandou to sip a lemonade, on the Route du Rayol Canadel to admire the incredible views or stop off in Port Grimaud, our little Venice of the French Riviera. A relaxing walk.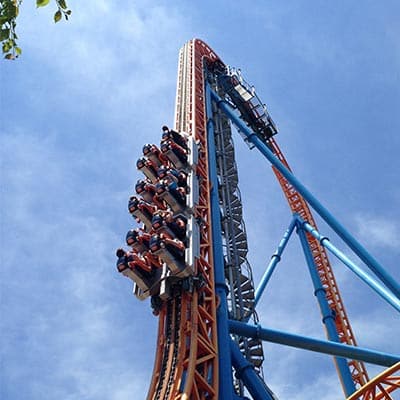 WATER PARKS IN THE SOUTH OF FRANCE
You will also find water parks in the Var near your campsites in Sanary-sur-Mer. We share with you our 3 favourite parks in the South of France. Let's go for a day of fun. Discover the Var water parks below.
1 | Aqualand, Saint-Cyr-sur-Mer
About 20 minutes from Sanary-sur-Mer, go to Aqualand in Saint-Cyr, a great water park. It's the perfect place to spend a fun-filled day, suitable for all ages. An aquatic whirlpool on a buoy or a hellish descent, a relaxation area or a leisure area for the little ones? The choice is yours!
A little hungry? Meet at the different catering points inside the park. For a memorable souvenir, don't forget to visit the shops. This water park is open from mid-June to early September.
2 | AquaVillage, Hyères
Come and have fun at the AquaVillage water park from June to September. This course is suitable for young and old alike. With its pyramids, slides, balance games and blob-jump you won't get bored. It's a 40-minute drive from your campsite in Sanary-sur-Mer.
3 | Go Ninja, Hyères
Are you looking for a challenge? Visit Go Ninja in Hyères for an unforgettable experience. Take on an obstacle course, located above swimming pools. Adrenalin and fun guaranteed!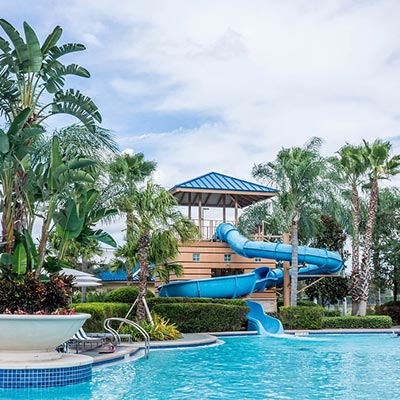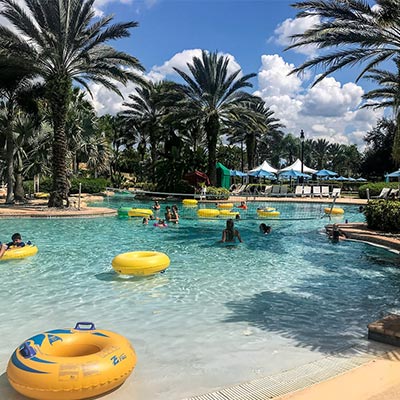 Let's go for some laughs! There is something for everyone between Var amusement parks and water parks. So, where are you going to spend the day and enjoy a good time with family and friends during your stay in Sanary-sur-Mer?
If you want to know what you can do in Sanary, take a look at our blog "what to do in Sanary-sur-Mer during your stay".