1 campsite in Esparron de Verdon
Camping at Esparron de Verdon: a unique holiday in the heart of nature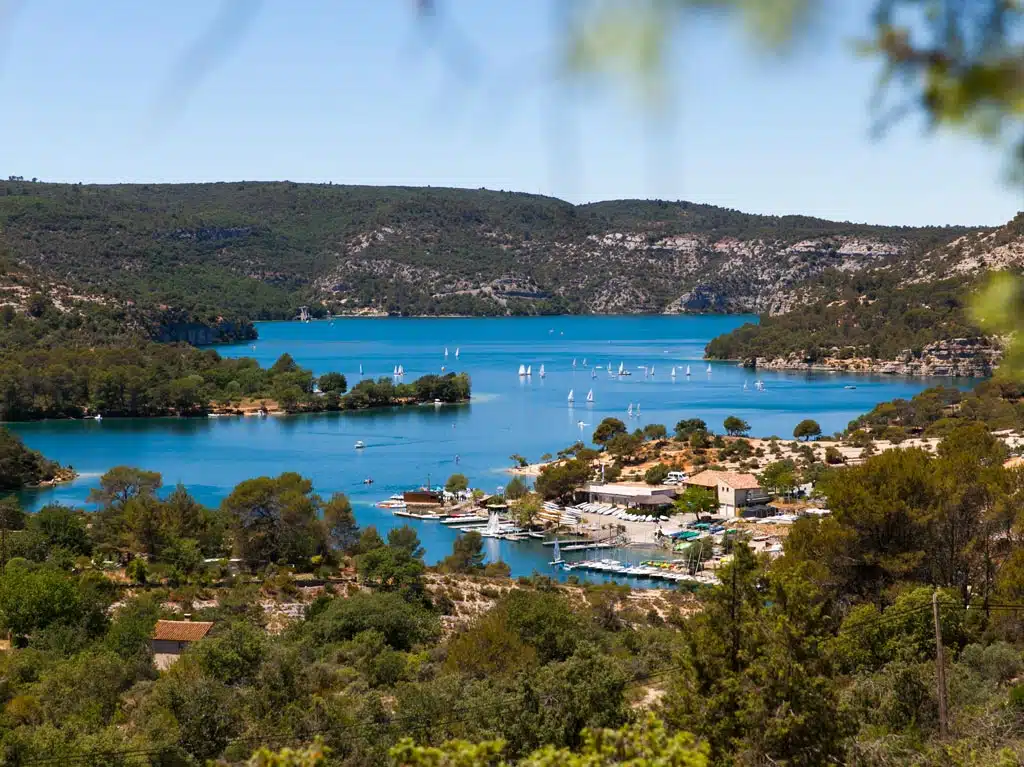 Camping le Soleil
Esparron de Verdon (04)
Discover this campsite

Discover Le Soleil campsite in Esparron de Verdon for an idyllic, relaxing holiday..;

An unforgettable experience in the heart of nature

Imagine yourself in the heart of the magnificent landscapes of the Alpes-de-Haute-Provence, at a campsite that promises you a memorable stay: welcome to Le Soleil d'Esparron de Verdon campsite!

Nestling in exceptional natural surroundings on the edge of a lake, this campsite is sure to be synonymous with moments of well-being and adventure; You'll enjoy an unforgettable green experience and a relaxing break, surrounded by breathtaking scenery and a host of fun activities;

Holidays lulled by the lake

One of the major advantages of this campsite is its ideal location and proximity to the lake; Located in the charming village of Esparron de Verdon, in Provence, it faces Lake Esparron; With its crystal-clear waters and shores lined with lush vegetation, the lake is a true paradise for nature lovers; Children will love splashing around and parents will love waking up each morning to a breathtaking view over the lake, ready to enjoy the pleasures of nature!

Book your stay at camping Le Soleil now and get ready to create unforgettable memories in this haven of nature;

Activities and leisure for all: experience moments of adventure at our campsite in Esparron de Verdon

There's no shortage of activities and entertainment at Le Soleil d'Esparron de Verdon campsite, promising every visitor an enriching and entertaining holiday; Are you more of a thrill-seeker or are you looking for relaxation and culture? You're bound to find what you're looking for in the range of events on offer!

Enjoy a wide range of outdoor activities;

Outdoor enthusiasts can enjoy a range of sporting activities on the surrounding trails of Provence; Follow the signposted trails and discover breathtaking panoramas, unspoilt landscapes and a variety of flora; Whether you're a beginner or an experienced hiker, there's something for everyone;

If you prefer a refreshing dip, Lake Esparron awaits you with its azure waters and peaceful atmosphere; Refreshing swims, paddle boarding, kayaking or fishing sessions – you'll be spoilt for choice! Finally, don't miss a visit to the Gorges du Verdon, a must-see in the Provence-Alpes-Côte d'Azur region; This magnificent, breathtaking canyon will take your breath away!

A getaway in Provence

As you explore the area around Esparron de Verdon, you will of course be captivated by the magnificent lake; And don't miss exploring the picturesque villages nearby; Soak up the Provençal atmosphere with your family as you visit these authentic places, sample local specialities and discover traditional crafts; Stroll through the narrow streets and admire the stone houses, shady squares and bustling markets;

On your walks, you'll discover a rich cultural and historical heritage; Medieval castles, centuries-old churches and ancient remains bear witness to the region's history; These cultural escapades are the perfect complement to your stay at camping d'Esparron de Verdon;

Something for everyone

For families, there's plenty of entertainment and a children's club to keep young and old entertained throughout the holidays;

Whether you're looking for adventure, relaxation or cultural discoveries, Le Soleil campsite in Esparron de Verdon will meet all your needs; Enjoy a wide range of activities and leisure pursuits in an enchanting, unspoilt natural setting;
The towns around our campsite in Esparron de Verdon
Accommodation at our Esparron de Verdon campsite: comfort and conviviality
In addition to its magnificent setting in the heart of Provence, Camping Le Soleil offers modern, comfortable facilities; Whether your family is more into traditional camping or looking for modern comfort, you'll find both spacious pitches to pitch your tent or caravan, and fully-equipped mobile homes to rent;
At our Esparron de Verdon campsite in the Provence-Alpes-Côte d'Azur region, the accommodation is designed to suit all tastes and expectations; Everything has been thought of to ensure you have a pleasant and relaxing stay!
Our traditional camping pitches
The campsite's spacious pitches are perfect for lovers of authenticity and the outdoor lifestyle; Set up your tent or caravan in a rare natural setting, surrounded by the beauty of the surrounding countryside; Enjoy the peace and privacy of your own space with your family, while making the most of the campsite's facilities and services;
A little extra comfort
Looking for more comfort and convenience? Mobile home rental is for you; This offer is particularly popular with families with children; Our fully-equipped accommodation offers a warm and functional space in which to relax and spend pleasant evenings with family and friends; You'll enjoy a kitchenette, en suite bathroom and comfortable living space;
With its proximity to a lake, its wide range of activities and services and its pitches and accommodation to suit all tastes, our establishment will be ideal for your family holidays!
Get in touch with our team to find out more and book your rental;découvrir notre offre détaillée et réserver votre location. And get ready to experience moments of well-being and conviviality in the heart of nature!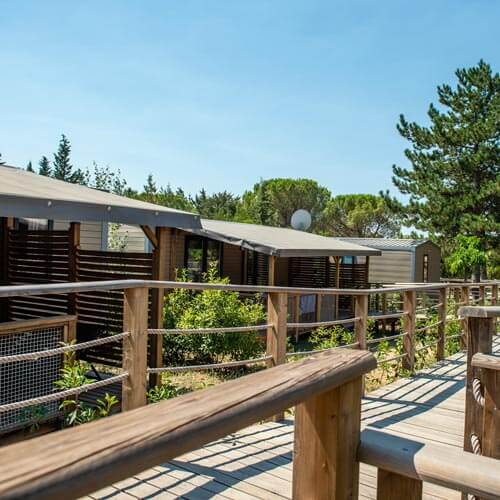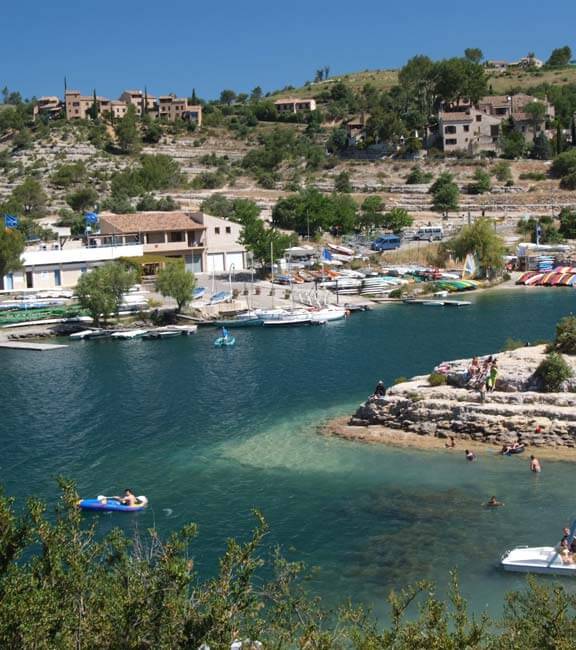 Your holidays in Esparron de Verdon
The charming village of Esparron de Verdon
Discover Esparron de Verdon, a Provencal village with authentic charm and unspoilt countryside; Its colourful streets and stone houses will transport you into a typically Provençal atmosphere; Explore the varied landscapes, from Lac de Sainte-Croix to the green hills; Hiking, boat trips and moments of tranquillity await you. Esparron de Verdon is a truly unspoilt jewel, offering a unique experience of wonder and change of scenery; Get ready to discover its many activities and must-see sites;
Water fun and activities in Esparron de Verdon
Explore the pleasures of the water and water-based activities at Esparron de Verdon; Lac de Sainte-Croix offers a multitude of captivating experiences; Sail aboard an electric boat, discover unspoilt coves and enjoy a refreshing swim;
Thrill-seekers can go jet-skiing, kayaking or paddle-boarding; Sunny beaches invite you to relax, while the surrounding countryside offers spectacular views. Esparron de Verdon offers unforgettable moments of family relaxation and water adventure; Dive into this enchanting aquatic world and make the most of Lac de Sainte-Croix as your favourite playground;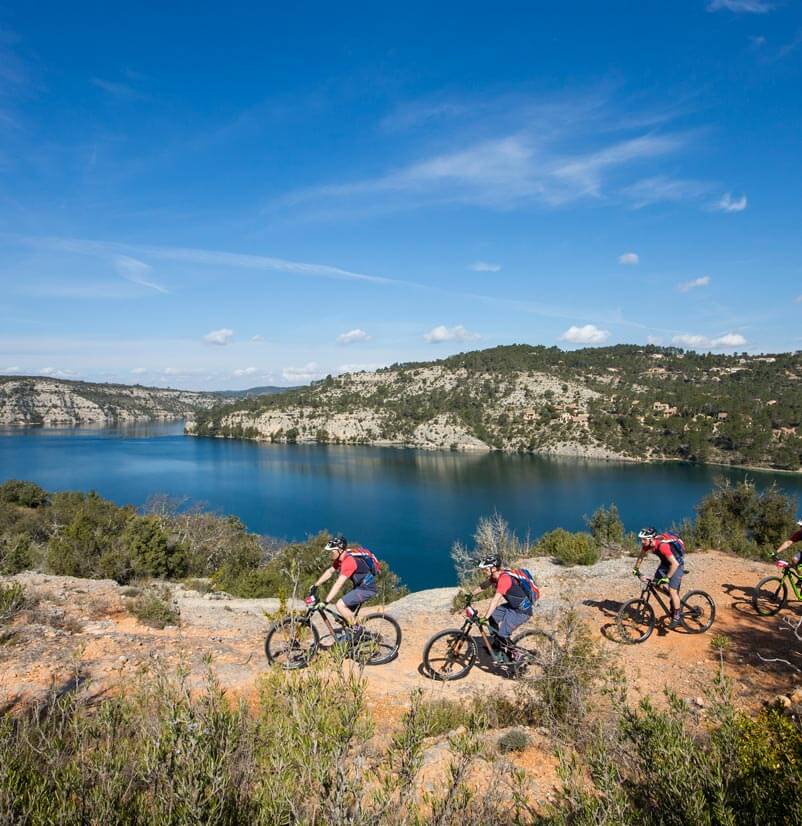 The history of Esparron de Verdon
Visit Château d'Esparron, a medieval fortress with panoramic views; Explore the church of Saint-Martin and admire its frescoes and sculptures;
Immerse yourself in the past at the Musée d'Art et d'Histoire, discovering its varied collections; Take a stroll through the lively streets, steeped in the atmosphere of Provence; Enjoy the boutiques, art galleries and picturesque cafés; Take part in the cultural events and festivals that bring the village to life;
Immerse yourself in the captivating history and culture of Esparron de Verdon, a journey back in time to the heart of this charming Provencal village;
Taste the local flavours and succumb to the gastronomy of Esparron de Verdon
The village's restaurants invite you to discover Provençal specialities such as pistou soup and fragrant daubes; Local cheeses, charcuterie and wines are also a must;
Indulge in sweet desserts such as calissons d'Aix and nougats; Local markets abound with fresh produce and regional specialities, offering a unique tasting experience;
Immerse yourself in this rich culinary heritage and explore the authentic flavours of Esparron de Verdon; Succumb to this gastronomic invitation for a memorable gourmet experience;