1 campsite open all year round
Campsite open all year round: enjoy a week's holiday whenever you like
Campsites generally offer rentals during the summer period, the time of year when many tourists take their holidays; The only problem is that bookings go very quickly, prices soar and holidaymakers flock to the same place; If you want to avoid the crowds during your stay in Provence-Alpes-Côte d'Azur, the Parc Mogador campsite welcomes you to its seaside estate; Our year-round campsite offers you the chance to spend a week's holiday in summer or winter, with your children, your partner or your friends!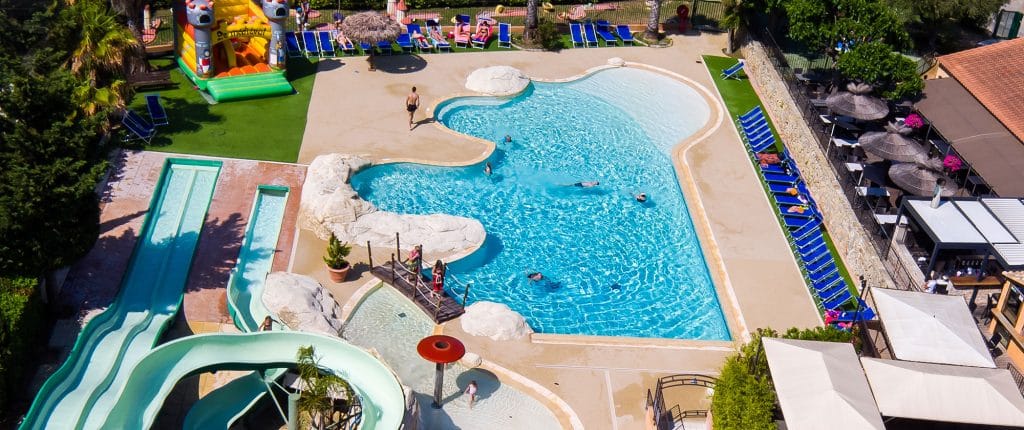 Parc Mogador Campsite
Sanary-sur-Mer (83)
Discover this campsite

Book an exceptional stay in a mobile home at camping Parc Mogador, whatever the season

Do you want to take your next holiday in November, January or March? No problem with our year-round campsite! Parc Mogador campsite welcomes you to its starlit grounds and offers you a choice of accommodation! For an exceptional seaside holiday, spend restful nights in a mobile home; Each mobile home sleeps between 1 and 6 people, so you can enjoy a holiday in the south of France with a small group or the whole family; These accommodations are fully equipped and have wifi access to ensure your comfort during your week with us;
Departments and towns of our year-round campsite
Go on holiday all year round and take advantage of our pitches for nights in the heart of nature
If you don't fancy a mobile home because you prefer an even more authentic holiday at our year-round campsite, our estate also offers pitches! Booking these pitches means that you can stay in a tent, camper van or caravan on our estate, one of Campasun's star-rated campsites; What's more, you'll enjoy total comfort with an electric hook-up and access to conventional, PRM or children's sanitary facilities; What's more, our pitch hire gives you access to our water park with heated swimming pool, as well as our restaurant and all our other Michelin-starred services;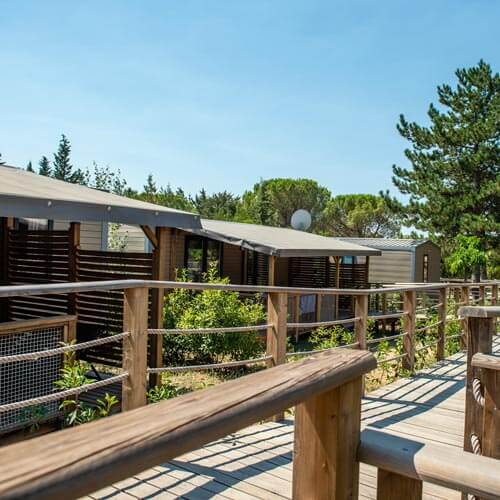 A holiday during the year with children at a campsite with a water park
On the programme for these impromptu holidays whenever you like throughout the year: cosy accommodation and spacious pitches, but that's not all! Our Parc Mogador campsite also has an aquatic area with a heated swimming pool; The pool has a paddling pool for younger children and a lifeguard on duty during the summer months; Deckchairs allow adults to relax while children play in the water; Don't forget to check the opening times for our swimming pool, as it is not open all the time out of season;
A privileged week at a year-round campsite with star-rated services;
Our year-round campsite offers comfortable, fully-equipped accommodation and a heated swimming pool, but we don't stop there! Take advantage of our star-rated services for an exceptional stay in the south of France; Our restaurant welcomes you every day except Monday, so you can enjoy a delicious meal during your week in Provence-Alpes-Côte d'Azur;
When you come to our year-round campsite, you don't have to take your whole house with you either! Everything you need is available on site: baby chair hire, laundry service, sheet hire, etc;
Rentals all year round at affordable rates
At Campasun, we think about all types of travellers who want to stay at our establishments; That's why we offer accommodation to suit all budgets at every campsite, including Parc Mogador; Find the rental that won't exceed your budget for this holiday in the South of France; During the summer period, if you have a low budget, opt for our pitches instead; For all other seasons, you'll benefit from even lower rates, or even discounts! Stay tuned for all the promotions on offer at our campsite all year round!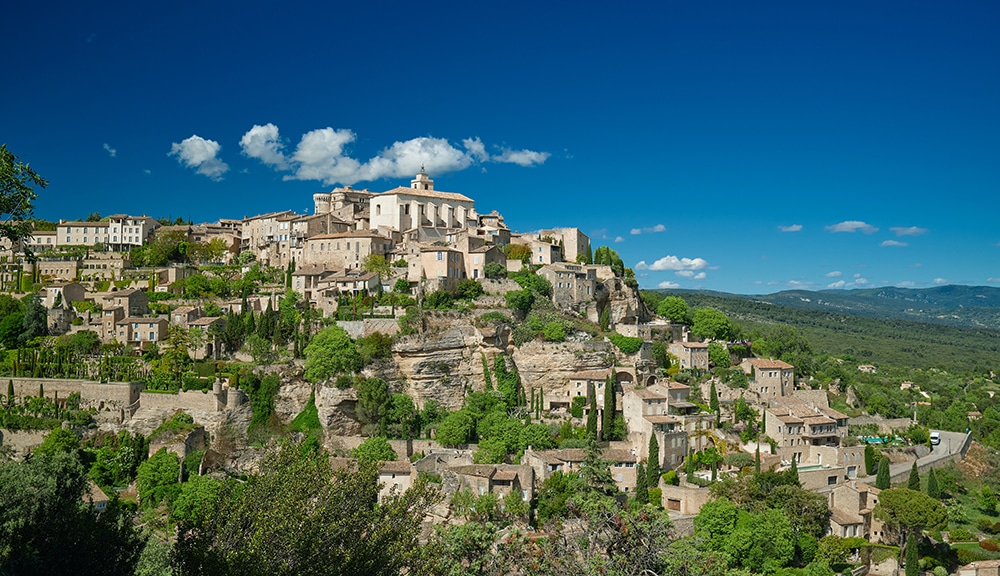 Why choose this year-round establishment for your next holiday?
If you're more of a summer holidaymaker than a year-round campsite…; Discover all the advantages of off-season holidays on our estate in the south of France :
Fewer tourists: if you choose to rent at a campsite that is open all year round, particularly in the off-season, you will enjoy a destination that is less frequented by tourists; So you can enjoy a quieter week without worrying about crowds at the campsite, on the beaches or in the places to visit;
Reduced prices: if the summer and low season are the most accessible rentals at our Parc Mogador campsite, the off-season allows you to book a campsite at a lower price; Save money on accommodation costs by taking advantage of our low prices and exclusive promotions;
Availability of rentals or pitches: you'll have more choice when it comes to selecting the ideal rental or pitch; By selecting off-season bookings, you won't be faced with an overbooked booking book!
More pleasant temperatures: if you don't like extremely hot summer temperatures, camping out of season can be more comfortable; Temperatures are often milder, so you can enjoy outdoor activities without the sweltering heat;
Enjoy a week's holiday whenever you want, in high season, low season or off-season, thanks to our year-round campsite; Choose the rental of your choice, from our cosy accommodation to our fully-equipped pitches; At certain times of the year, you can enjoy our water park with swimming pool; And above all, benefit from all the advantages of booking outside the summer period; So you can visit the various tourist attractions without having to deal with the crowds of holidaymakers during the summer season; What's more, you'll get to see Provence-Alpes-Côte d'Azur in all its different guises throughout the seasons;